The mission of the Social Justice and Anti-Racism (SJAR) Task Force is to promote the success and proportional representation of researchers and clinicians from underrepresented minorities at every level of Weill Cornell Graduate School (WCGS); to dismantle systemic racism and champion social justice at WCGS and beyond.

General Goals:
Create a welcoming environment for scholars of all backgrounds. 

Increase the representation of underrepresented scholars at all levels.


5 Target Areas:
1. Combat racism and promote social justice at WCGS
2. Increase recruitment of BIPOC scientists to WCGS
3. Support and promote the retention and inclusion of BIPOC scientists at WCGS
4. Create open discussion and safe spaces for all members of WCGS
5. Increase WCGS educational outreach and opportunities for BIPOC students in our local community


SJAR Members
Co-Chairs
Chris Bourne, IMP Student - cmb2011@med.cornell.edu

Monica Guzman, Pharmacology Faculty - mlg2007@med.cornell.edu

Björn Kafsack, BCMB Faculty - bjk2007@med.cornell.edu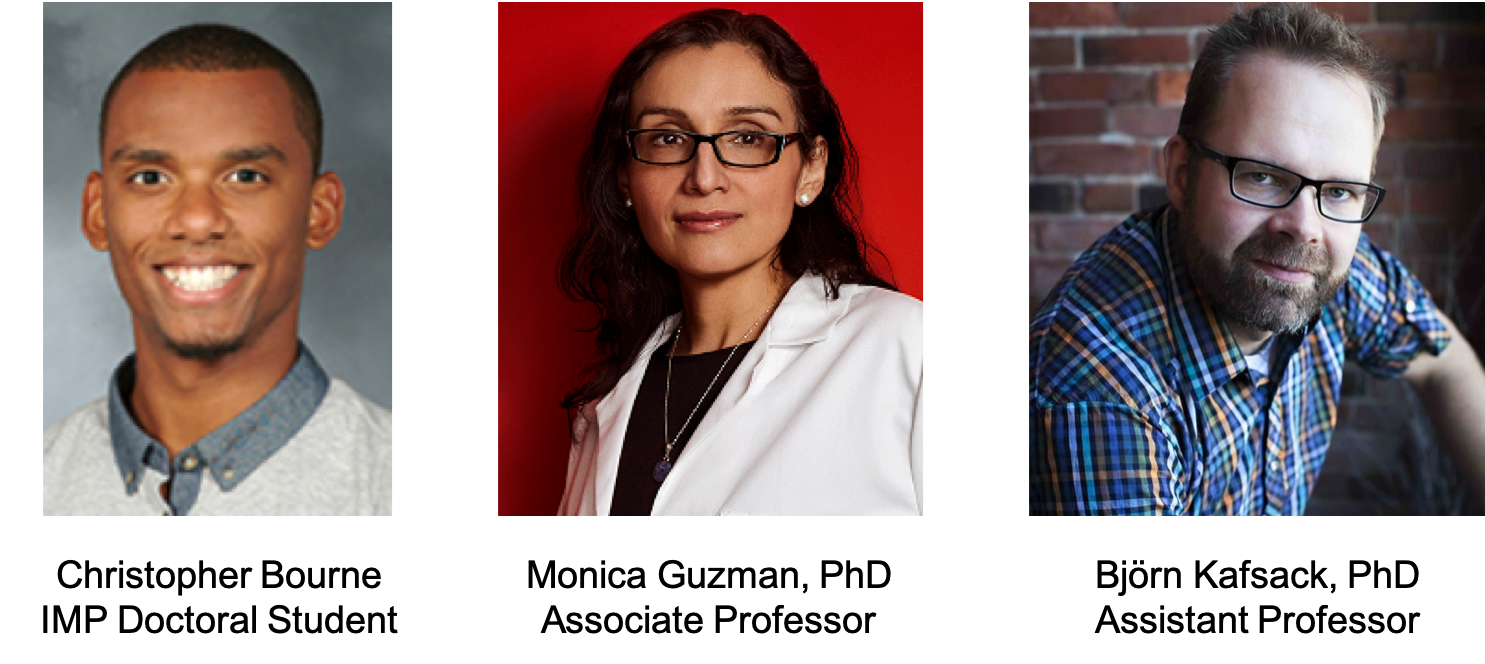 Members
Nohely Abreu, BCMB Student
Ifeh Akano, Pharmacology Student
Mark A. Bernard, MS - Clinical Epidemiology Student
Kathleen Bidad, MS-PA Student
John Blenis, Pharmacology Faculty
Veronica Bohorquez, Neuroscience Staff
Mary Charlson, MS - Clinical Epidemiology Faculty
Ida Chen, MS-PA Student
Maria Compte, MS-PA Faculty
Chitra Dahia, BCMB Faculty
Tanmoy "Tom" Das Lala, MD-PhD Student
Shivani Dhir, MS -  MBA/MS in Healthcare Leadership Staff
Whitney Diaz Gochez, BCMB Student
Irene Doku, MS -  MBA/MS in Healthcare Leadership Student
David Eliezer, ChemBio Faculty
Carol Fiore, MS-PA Faculty
Rachel Glenn, BCMB Student
Jesus Gomez Salinero, Postdoc
Ben Huang, Faculty
Sahar Jalal, Postdoc
Anoushka Joglekar, CompBio Student
Steven Josefowicz IMP, PBSB Faculty
Scott Keeney, BCMB Faculty
Aisha Khalid Khan, MS-PA Faculty
Thaís Klevorn, IMP Student
Scott Kulm, PBSB Student
Irina Leonardi, Postdoc
Aubrey Leukart, WCGS Staff
Chloe Lopez-Lee, Neuroscience Student
Jose Lora, PBSB Student
My Linh Nguyen-Novotny, MS - Clinical & Translational Investigation Staff
Vanessa Osman, Pharmacology Student
Jyotishman Pathak, MS- PopHealth Faculty
Lucas Repeta, ChemBio Student
Annalise Schweickart, CompBio Student
Manu Sharma, Neuroscience Faculty
Malka Svei, Psychology Staff
Joe Udeochu, Postdoc
Richard White, BCMB, PBSB Faculty
Fei Zhang, MS- PopHealth Student


Social Justice
Mission: Identify the systems that perpetuate bias and racism at WCGS, and ultimately dismantle them through anti-racist education, evaluation and improvement of current efforts, and support of WCGS community members.
Goals:
Evaluate Current reporting mechanisms for mistreatment and increase visibility for the options.

Evaluate data from climate surveys and generate:
Mechanisms for Support: Evaluate, promote and amplify efforts to report and investigate mistreatment/abuse (TLC).  Determine how grievances from postdocs and faculty are handled and areas to improve.

Integration: Identify and synergize with groups working on anti-racism and social justice issues across the Tri-Institutional campus and in the medical school.

Curriculum: Identify, implement, and evaluate anti-racism education for students and faculty.  Gather feedback on new unconscious bias training.

Evaluation: Coordinate with the GFC to administer anti-racism and social justice climate surveys.  Evaluate the current climate and efforts in the three areas above.
Members: Chris Bourne, Mark A. Bernard, Rachel Glenn, Dylan Murphy, Aisha K Khan, Monica Guzman

Recruitment
Mission: Develop new strategies to increase URM recruitment to WCGS.
Goals:
Support ongoing recruitment of BIOPIC post-docs at WCM and MSK 
Help develop novel recruitment strategies that faculty members can implement when looking for a post-doc or considering creating a position for an individual
Members: Chloe Lopez-Lee, Chitra Dahia, Leona Nease, Vanessa Osman, Carol Fiore, Ida Chen, Shivani Dhir, John Blenis, Richard White, Scott Keeney
Retention and Inclusion
Mission: To improve retention and promote a sense of inclusion for WCGS community members at all levels (students, post-docs, staff, and faculty), with a focus on URM members.
Goals:
To identify issues that limit retention (defined as remaining connected to the mission of WCGS and its partner institutions) including science, education and medicine, and inclusivity (defined as a sense of belonging and being valued) in the WCGS community, with a focus on URM members.

To obtain data for current levels of retention and inclusivity and to improve collection and availability of such data.

Develop strategies for maximizing retention and inclusion.

To increase a broad sense of community in WCGS across all levels.

To publicize our mission and promote dialogue regardingthe pertinent issues
Members: Jose Lora, Annalise Schweickart, Joe Udeochu, Manu Sharma, Jyoti Pathak, Aubrey DeCarlo, My Linh H. Nguyen-Novotny, David Eliezer
Safe Space and Open Dialogue
SOS (Safe space & Open dialogue for Social justice) Working Group
Mission: To provide safe space for sharing experiences and emotions, to create opportunities for open dialogue regarding social justice issues, and to facilitate grassroot activism within Weill Cornell and associated communities.
Members: Scott Kulm, Irene Doku, Anoushka Joglekar, Nohely Abreu, Christine Scaduto, Malka Svei, Steven Josefowicz, Hagen Tilgner, Ben Huang* (*Lead contact: bsh2002@med.cornell.edu)
Goals:
  1. Creating a Virtual Safe Space -

Introducing the WCM-SOS Slack - an online safe space for members of the community to express their voices and be heard, including capabilities for anonymous posting as well as interfacing with other social media platforms for amplification & ease of access. We're aiming to foster a self-organized and self-moderated community where voices can be expressed, shared, and heard regardless of background or rank.
  2. Providing a Library of Resources to facilitate Open Dialogue and Grassroot Activism

The SOS Slack will also serve as a one-stop portal for various communication, including (1) Open Dialogue & Book Club events and associated discussions before & after the events, (2) a Library of Resources generated from our events and those from other similar open events, (3) dedicated channels to facilitate grassroot activism.
  3. Organizing Open Dialogue Events -
In general, we will be aiming to host regular open dialogue events (1-2 events per month) to keep the conversations going, in order to foster a community of trust, respect, and belonging for people of all backgrounds. We believe that, through the building of empathy and understanding, we will be able to break down barriers of racism and other discriminations.
Additional Resources and Links:
Reporting Mistreatment:
https://gradschool.weill.cornell.edu/WCGSTLC

Education and Materials for learning:
Anti-Racist Book Discussions hosted by WCGS Book Club
Additional Resources on DEI:
GFC: General Faculty Council

EFC: Executive Faculty Council

FACD: Faculty Advisory Committee on Diversity

Post-Doc Association
Information of grants, diversity supplements:
https://gradschool.weill.cornell.edu/student-experience/fellowship-and-s...
Outreach and Education
Mission: To support and expand existing WCGS science outreach programs; to identify and implement new mechanisms for supporting mentorship, science education and work opportunities for URM students outside WCGS.
Goals:
To identify needs, coordinate efforts and provide support to institutional outreach programs

To establish partnerships with other educational institutions in NYC

To increase mentorship and research opportunities to underserved students in NYC
Members: Mark A. Bernard, Ifeh Akano, Sahar Jalal, Maria Compte, Kat Bidad, Thaís Klevorn, Veronica Bohorquez, Björn Kafsack, Whitney Diaz, Katya Kots
2020 Events
Kickoff event
Open Dialogue on Systemic Racism in America - Wednesday, 10/07/2020, 5-6pm EDT - a critical examination of the structural racism deeply ingrained within American society. We will reflect upon the documentary film "13th" that explores the extension of slavery-era racism into the modern guises of police brutality and mass incarceration. We will also review ideas about overcoming this institutionalized racism, as discussed by social science experts at the Cornell webinar on Policing & Incarceration in September. 
2nd event
Open Dialogue on Anti-Racist Activism - Thursday, 10/22/2020, 5-6pm EDT - focusing on the harrowing impacts of racism on individuals and the different approaches of antiracist resistance taken by activists during the Civil Rights movement. We will reflect upon the documentary film "I Am Not Your Negro" and take an in-depth look at 4 iconic leaders - James Baldwin, Medgar Evars, Malcolm X, and Martin Luther King, Jr.
3rd event
Book Club on "The Bluest Eye" by Toni Morrison - Thursday, 11/19/2020, 6-7pm EST - Deeper thoughts and feelings are better captured and conveyed in book-length stories and expositions. In addition to film-inspired events, we will also host Book Clubs to encourage in-depth engagement with issues and stories. Our 1st book club will feature "The Bluest Eye" (1970), the first novel by Toni Morrison, a Cornell graduate ('55) and Nobel laureate in Literature ('93), commemorating the 50th anniversary of its publication. The book centers on issues of internalized racism and the society's racially prejudiced definitions of beauty and identity.

4th event
Faculty-Trainee Open Dialogue - Wednesday, 12/10/2020, 5:30-6:30pm EST - As part of our effort to foster a community of belonging and mutual respect, we will initiate a series of Faculty-Student Dialogue events, where one faculty and one student will be featured at each event to chat openly about their backgrounds and personal journeys, to break down the barriers of understanding and build trust/camaraderie across the ranks. Open to all faculty, students, and postdocs. The SOS Faculty-Student/Postdoc Dialogue Series will continue on a monthly basis in 2021.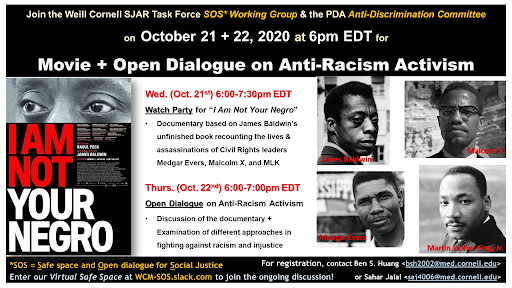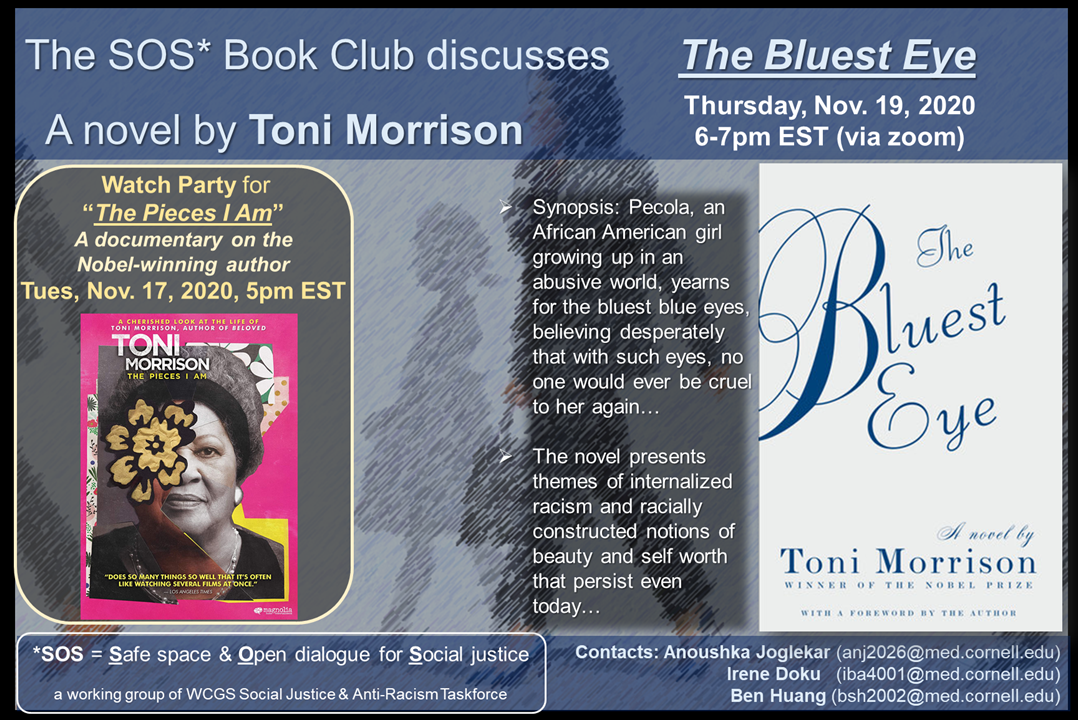 Co-Chair speaks on the SJAR Task Force [01:00]