The Esprit de Corps Program
Esprit de Corps literally means "spirit of the group". If you've ever been on a sports team that had great morale and team spirit, you've experienced esprit de corps. It is a shared spirit of camaraderie, enthusiasm, and devotion to a cause among the members of a group.
The Esprit de Corps Program is a mentorship program for 1st year PhD students from diverse backgrounds (racial and ethnic, 1st generation, LGBTQ+, disadvantaged, and/or disabled). Older student mentors (year 2+) help 1st year PhD students navigate graduate school during their first year, while building community among our diverse cohort of students.
Benefits
All members...
Receive specialized mentorship on navigating graduate school from trained coaches (current students and postdocs).
Build community among a cohort of diverse students.
Find the support and resources necessary to propel your academic and scientific career forward.
Eligibility
To be eligible for Esprit de Corps, you must be:
An incoming 1st year PhD student at Weill Cornell Graduate School, the Tri-Institutional Chemical Biology or Computational Biology Program and have a commitment to:
diversity in science and medicine
completing the program
mentoring future cohorts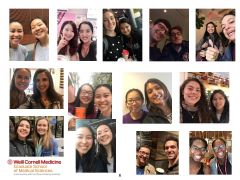 Coaches
Members are matched with PhD student or postdoc mentors known as coaches. Coaches help Esprit de Corps members successfully navigate the first year of their PhD. They touchbase at key points in the year and share personal insights that are focused on lessons learned. 
Community
Esprit de Corps is centered on a supportive community.  Community is developed through activities that foster collaboration and facilitate interaction. These activities include regular social events sponsored by the Office of Student Diversity, peer mentoring, and a retreat that integrates members into the larger tri-institutional community.
Seminars
Strategies for Success: Navigating Your 1st Year
How to Choose a Lab
Career Self-awareness: Skills, Values, and Reflection
The Power of the Group Spirit
10 things I wish I knew/did to be more strategic in Graduate School
Handling Tricky Situations with Your Mentor
Financial Literacy (with personal advisement)
Seminars are also open to all students.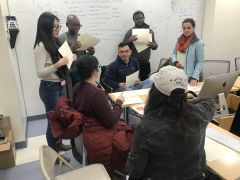 How to Join
All Weill Cornell Graduate School and Tri-Institutional 1st year PhD students are invited to join via email.  Space is limited, but we do our best to try to accommodate as many participants as possible.
If you cannot find or did not receive this invitation, you can write to wcgsdiversity&outreach@med.cornell.edu to receive a copy.