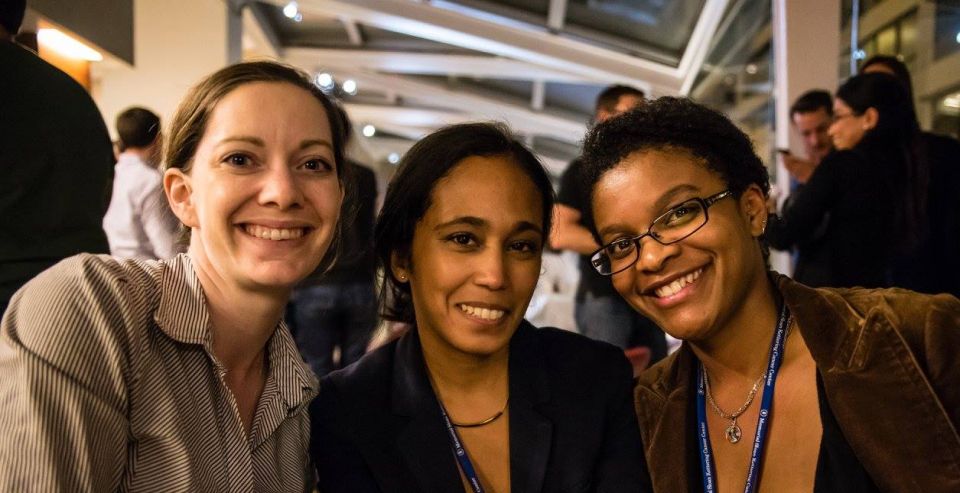 Welcome to our community! Below you will find information on programs, events, and diversity-related clubs sponsored by the Graduate School. Diversity and inclusion in the Graduate School is supported by both the Office of Student Diversity and the institution's larger Office of Diversity and Inclusion (for faculty and staff). More on diversity at Weill Cornell Medicine can be found at: diversity.weill.cornell.edu.
Office of Student Diversity
The Office of Student Diversity is housed in Olin Hall, the dormitory for most first-year PhD and medical students. Its open-door policy and adjacent student lounge provides a space for all students to engage in community programing and seek support, if needed. The office supports a wide range of programs aimed at the support and recruitment of underrepresented students, community building, mentorship, and outreach. The Office of Student Diversity is directed by two full-time Assistant Deans, Dr. Marcus Lambert (for the Graduate School) and Dr. Elizabeth Wilson-Anstey (for the Medical College).
Diverse Communities

The Graduate School supports many student clubs and initiatives, some of which represent the diversity within the Graduate School such as the Tri-Institutional Minority Society, the Women in Science initiative, LGBT community activities, International Student programs, and outreach and community service opportunities to underserved populations. More information on diversive communities at Weill Cornell Medicine can be found here: diversity.weill.cornell.edu/diverse-communities.
Read more about our diverse communities:
Diversity Initiatives

Diversity Week
As part of Dean Augustine Choi's commitment to strengthening the culture of diversity and inclusion at Weill Cornell Medicine, the Office of Diversity and Inclusion hosts Diversity Week, an annual event that takes place in april of each year. Diversity Week includes a keynote address, an array of events from each department on campus such as Diversity Grand Round talks from experts in their fields, health disparity and mentoring in medicine symposiums, paneled events centered around work-life balance, women in science, and LGBT issues in medicine, among others. In addition, winners of the Dean's Diversity and Healthcare Disparities Research Awards, Pioneers in Diversity Awards, and the Laurie H. Glimcher Award for Excellence in Mentoring Women Faculty are honored during an evening celebration of diversity. For more information and a scheduled list of events click here!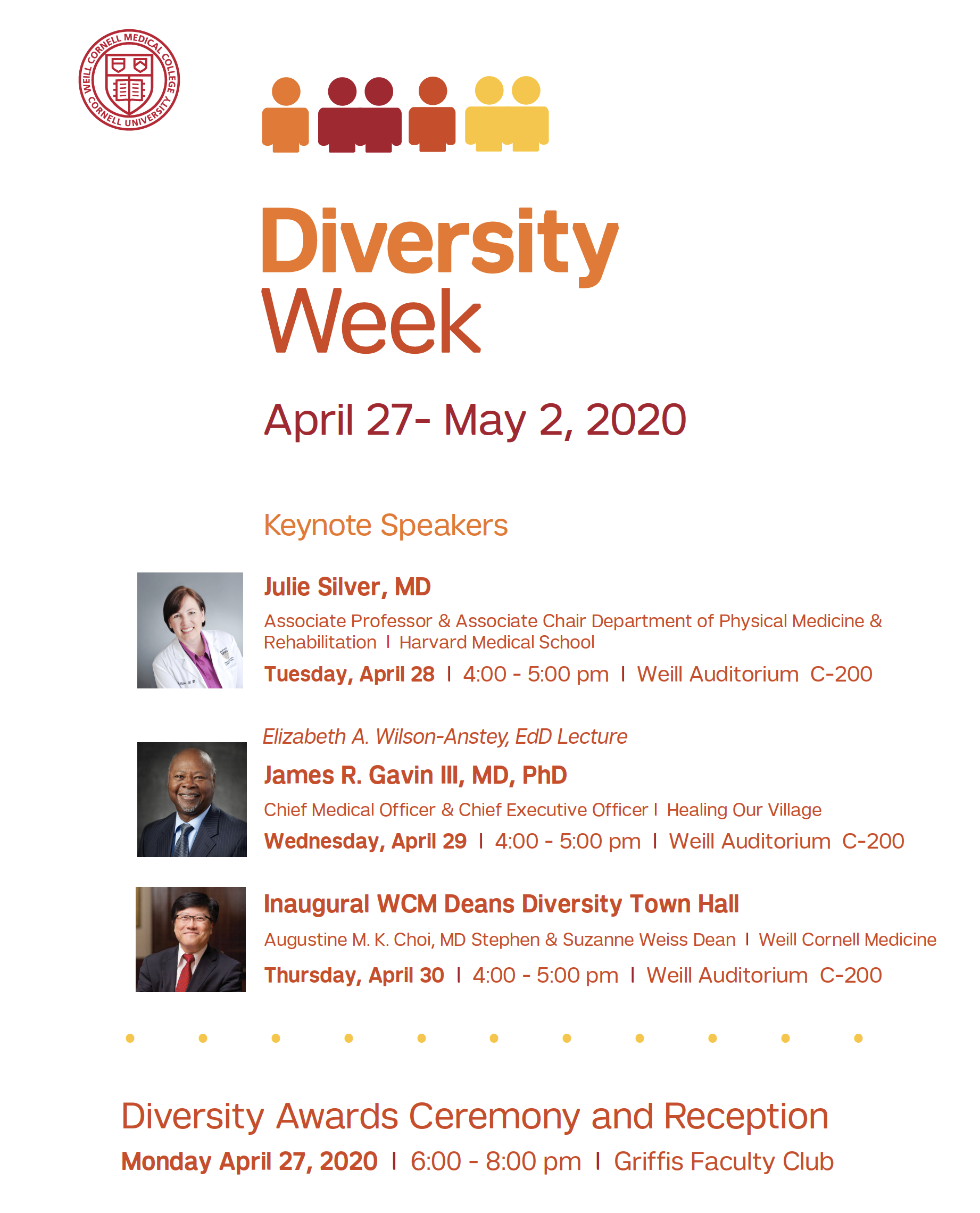 Coffee Hours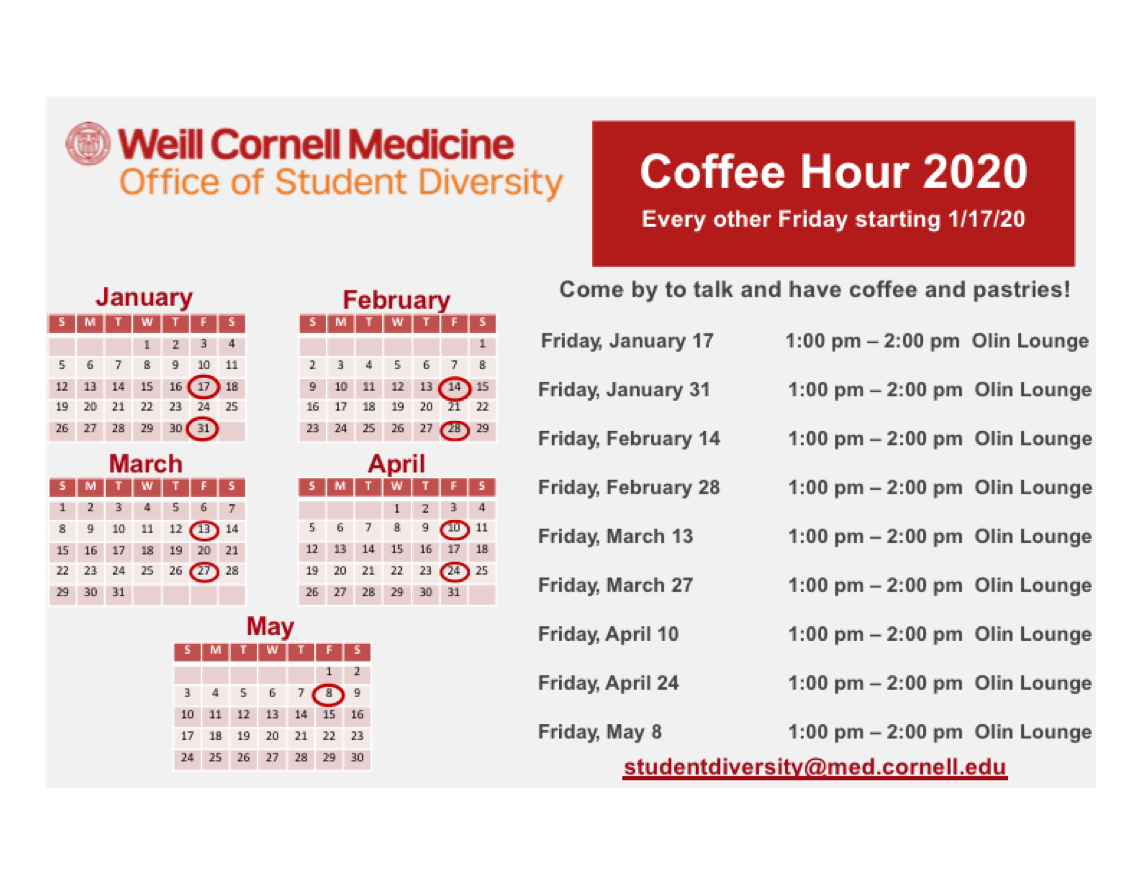 Lecture Series

The Office of Student Diversity's lecture series includes speakers such as Dr. Ahna Skop, Professor of Genetics at The University of Wisconsin–Madison, Dr. Sherilynn Black, Associate Vice Provost for Faculty Advancement at Duke University School of Medicine, and Dr. Erich Jarvis, Professor at The Rockefeller University.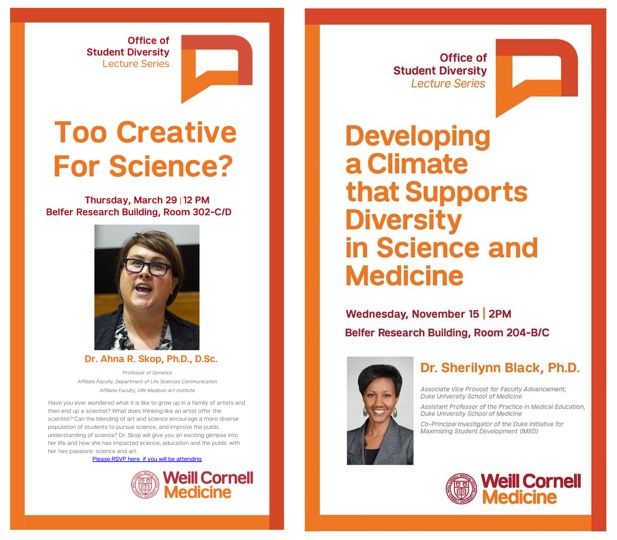 High School and College Enrichment Programs
Our pipeline and outreach programs are designed to prepare and inspire students to pursue careers in biomedical research. A complete list of programs can be found here: diversity.weill.cornell.edu/student-diversity/enrichment-programs.

High School Catalyst Program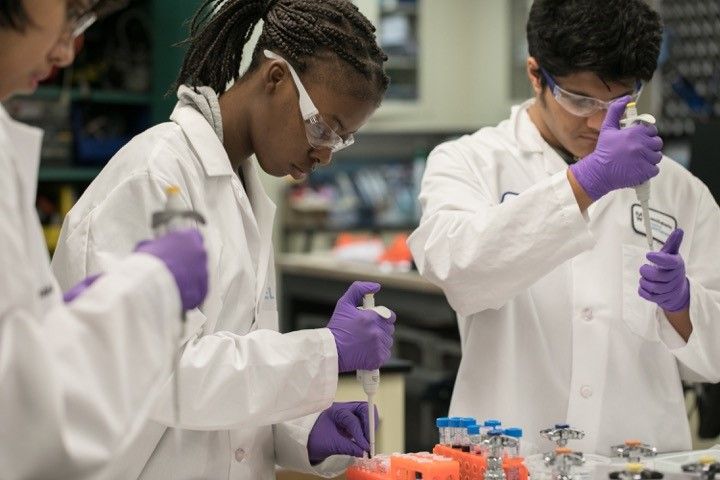 The High School Catalyst Program (previously the Weill Cornell Medicine High School Immersion Program) is a partnership between the Weill Cornell Graduate School and the Memorial Sloan Kettering Postdoctoral Association. The High School Catalyst Program is designed to offer hands on biomedical research exposure to New York High School students from self-reported underrepresented minority, disadvantaged, and first-generation immigrant backgrounds students. High School students will work closely for 7 weeks with student and postdoctoral scholars on a scientific project in a laboratory setting at Weill Cornell Medicine and Memorial Sloan Kettering Cancer Center. Mentees and mentors will be paired on the basis of scientific interests and will work on a biomedical research project designed by the mentor. High School students are expected to learn about the research focus of the WCGS mentor's laboratory, have hands on experiences in assisting with experiments under the guidance of his or her mentor, and present their findings at the end of the program. Each mentor should supply the high school student with the necessary reading materials and may recommend additional reading and/or assignments for their student to do outside of the time in the laboratory. Mentee/mentor pairs should follow the basic program guidelines but have the flexibility to exceed the minimum requirements listed below. We are looking for highly motivated, enthusiastic, and committed high school students and mentors to provide a mutually beneficial experience for all involved. Priority will be given to students from the Harlem Biospace nonprofit HYPOTHEkids Bioforce program. We look forward to welcoming the students to our community!
Program Guidelines
• High School students must complete the application by March 15th, 2020.
• ~25 hrs or more per week of laboratory work with a mentor
• Exposure to relevant literature and methods in the research area
• Hands on experience setting up and/or carrying out experiments
• Discussion and interpretation of experimental results
• Introductory meeting at Weill Cornell Medicine: Last week of June
• Program dates will run from the June 29th through August 14th
• Poster Session at Weill Cornell week of August 14th

High School Student Application Links: High School Catalyst Program
https://www.hypothekids.org/new-york-bioforce