Congratulations on your admission to Weill Cornell Graduate School of Medical Sciences!
The I-20 is issued to nonimmigrant students who have been accepted for enrollment at an SEVP-certified educational institution in the United States. The DSOs in the Graduate School Office process the I-20 document for international students who are admitted to Weill Cornell Graduate School of Medical Sciences (WCGS). All international students will need an I-20 for visa application, to enter the U.S., and as an evidence of your F-1 status while in the U.S.
STEP 1: APPLYING for I-20
Step 1: Applying for I-20
Once you are admitted to one of our graduate programs, we will send you an "I-20 Request" email to complete an online I-20 request form and submit all of the necessary supporting documents. You will need the form to apply for a student visa stamp at a U.S. consulate, unless you are a Canadian citizen.
All new and transfer students must provide the following supporting documents in order for WCGS to issue your I-20. The I-20 request process usually begins 2 to 3 months prior to the program start date and the processing time will take approximately 7 business days. Please note that incomplete documentation will delay I-20 processing.
Supporting Documents for I-20 Request
Gather the following required documents in PDF format:
Passport biographical (photo) page
EAD card if under OPT or STEM OPT (if applicable)
If you are currently in the U.S. with an F-1 visa, you must include the following documents:

WCM F-1 Student SEVIS Transfer form
F-1 visa
Most recent I-94 Travel Record
Form I-20 issued by current school

Evidence of financial support (only applicable to Master's degree students)
If you are coming with a spouse/children, include copy of passport biographical page of each dependent
Transferring your I-20
You are eligible to transfer your SEVIS record to study at WCM if you are currently in valid F-1 student status with one of the following criteria.
Enrolled as a student in another U.S. institution
Currently on OPT or STEM OPT in valid F-1 student status
Currently within the 60-day grace period following the completion of your program or OPT
If you are transfering your I-20, you must submit the additional supporting documents listed above. We advise you to speak with the international student advisor at your current institution to review your F1 transfer eligibility and confirm timing based on your current status.
STEP 2: APPLYING for a U.S. VISA
Step 2: Applying for a Visa
Once you have the Form I-20 from WCM, you are ready to apply for an F-1 student visa and schedule an interview at U.S. Embassy or Consulate. Canadian citizens and national of Bermuda are exempt from obtaining a visa, but you do need an I-20 to study and enter the United States. It is important to review the information on your I-20 for accuracy when it arrives.
Here is the general outline for obtaining an F1 visa:
Request I-20 from Weill Cornell Graduate School
Pay I-901 SEVIS Fee. Watch this video tutorial to learn more about how to pay the I-901 SEVIS fee.
A passport photo - You will upload your photo while completing the online Form DS-160. Your photo must be in the format explained in the Photograph Requirements.
Attend your visa interview
There are several steps to apply for a visa. The order of these steps and how you complete them may vary by U.S. Embassy or Consulate. Please consult the instructions on the embassy or consulate website.
Be prepared to be interviewed in English. Answer all questions honestly and briefly. NAFSA, the Association of International Educators, offers some useful advice for student visa interviews.
Have these documents ready for the visa interview:
Passport valid for at least six months beyond the date of first travel to U.S.
DS-160 confirmation page with your application ID number (Canadians excepted)
I-20 (F-1) form
Your admissions letter from Weill Cornell Medicine
Proof of financial support. (Bring copies of documents mentioned on your I-20 funding letter or bank statements for personal funds.)
Any additional documentation requested by your U.S. consulate or embassy
STEP 3: ARRIVING in the UNITED STATES
Step 3: Arriving in the United States
Students are permitted to enter the United States up to 30 days prior to the "program start date" indicates on your I-20. If you are transferring from another SEVP-certified school in the U.S., you are not subject to the 30-day rule. Upon arrival in the U.S., you must have the following documents to show the inspection officer. The officer will review your documents at a U.S. Port of Entry.
Valid passport
F-1 entry visa (except Canadian citizens)
I-20 issued by Weill Cornell Graduate School
Financial support document (if applicable)
Proof of SEVIS I-901 fee payment
Make sure you check the "stamp of entry" on your passport is correct for your status, which should be "F1/DS." Student should print and save a copy of the I-94 Travel Record after each entry to the United Sates.
All new and transfer students are required to attend a mandatory check-in session during Orientation, where you will review the requirements for maintaining F-1 status. Approximately two weeks prior to your program start date, you will receive an email with instructions regarding the online check-in process.
I-20 REQUEST & ARRIVAL FLOWCHART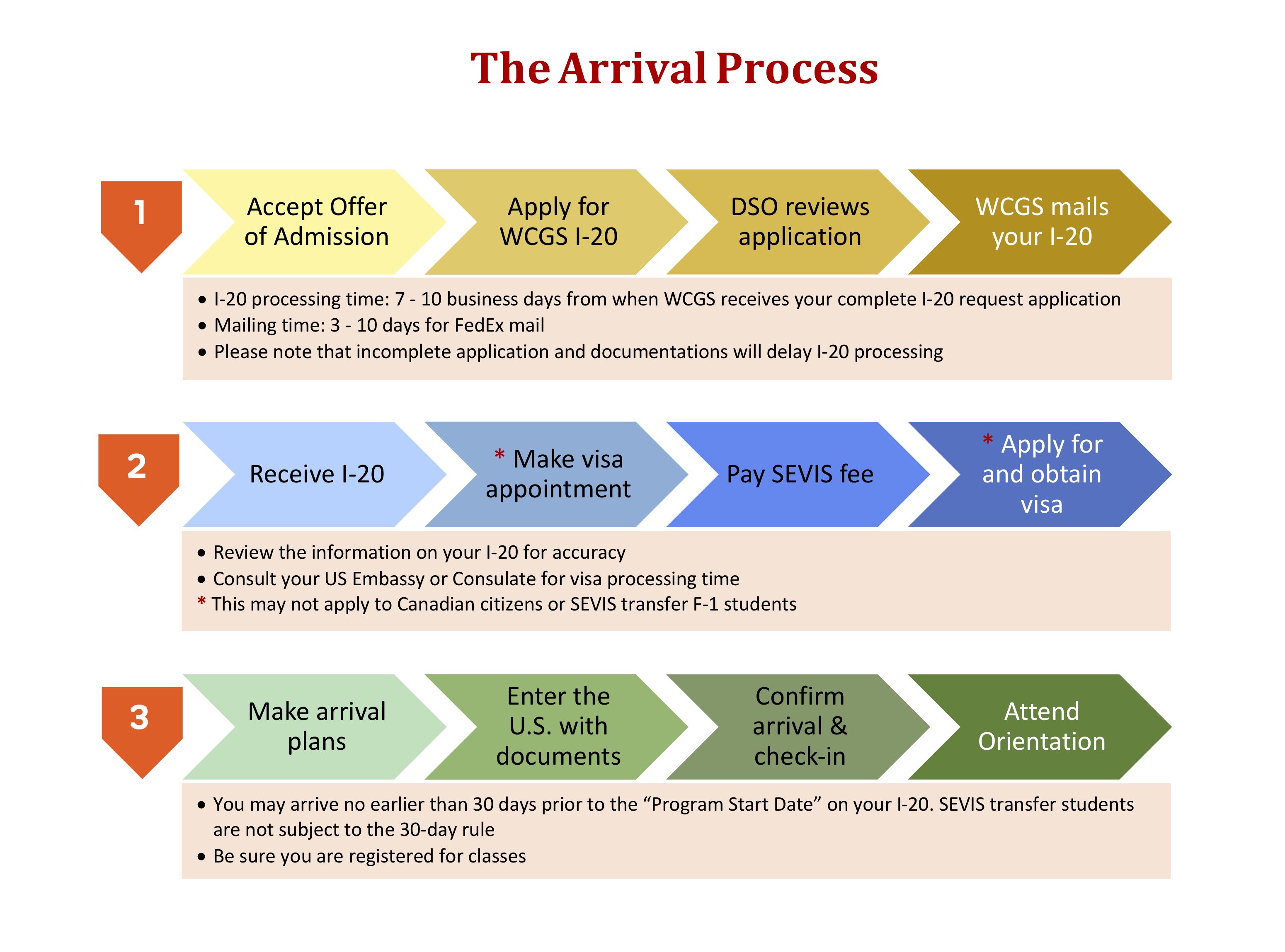 GENERAL RESOURCES
The list of websites below provide useful resources and instructions on how to obtain a U.S. visa and enter the U.S. legally: