Biography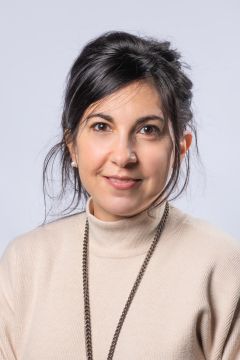 Roberta Zappasodi, PhD
Roberta Zappasodi is an Assistant Professor of Hematology in Medicine in the Division of Hematology and Medical Oncology of the Department of Medicine at the Weill Cornell Medical College (New York, NY) and Visiting Investigator at Memorial Sloan Kettering (MSK, New York, NY). Dr. Zappasodi is also a Bridge Fellow in the Parker Institute for Cancer Immunotherapy.
The overarching goal of the lab she leads is to improve the understanding of the mechanisms underlying resistance to cancer immunotherapy. The Zappasodi Lab is focused on investigating immunosuppressive CD4+ T-cell subsets and the way these cells interact with B cells and impact on B-cell function in response to immunotherapy with immune checkpoint blockade. In addition, the lab is investigating how tumor metabolism skews the microenvironment to retain immunosuppressive and/or dysfunctional T cells. The Zappasodi Lab primarily studies these mechanisms in the setting of solid tumors, where the immune system and the neoplastic disease are two distinct tissue entities and aims to extend these observations to B-cell lymphomas, where the malignant disease occurs in the immune system itself.
Ongoing research projects include but are not limited to: 1) the definition of T-cell-mediated suppressive mechanisms as targets and biomarkers of immunotherapy; 2) the role of B-cell responses in the anti-tumor activity of immune checkpoint blockade therapy; and 3) the study of the immune microenvironment in the pathogenesis of B-cell lymphomas and in the response of these diseases to immunotherapy.
Dr. Zappasodi's work has made substantial contributions to the identification of molecular determinants of immune and anti-tumor activity of immunotherapy and to improve our understanding of the mechanisms of action of immune checkpoint blockade therapy. Her work has been published in high impact peer reviewed journals and recognized by several awards, including the Presidential Award of the Society for Immunotherapy of Cancer (SITC) and the American Association for Cancer Research (AACR) Women in Cancer Research (WICR) Scholar Award.
Before establishing her Lab at Weill Cornell Medicine, Dr. Zappasodi received a PhD in tumor immunology and immunotherapy at the National Cancer Institute of Milan (Milan, Italy) and was a postdoctoral fellow at MSK in the Wolchok-Merghoub Lab, where she was supported by a Parker Institute for Cancer Immunotherapy Scholar Award.
Research Topics
Cancer Immunology
Cancer Immunotherapy
Immunometabolism
Melanoma
B-Cell Lymphoma