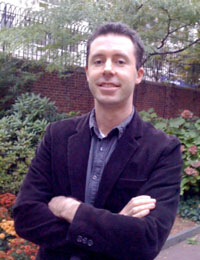 Bio
The Elemento lab combines Big Data analytics with experimentation to develop entirely new ways to help prevent, diagnose, understand, treat and ultimately cure cancer. Our research involves routine use of ultrafast genome and DNA sequencing, proteomics, high-performance computing, mathematical modeling, and machine learning. 

More specifically, we are working on :
Systems biology of regulatory networks in normal and malignant cells, with a strong focus on blood cancers (lymphomas and leukemias). We use ChIP-seq, RNA-seq, computational modeling to investigate how genes are regulated in cancer cells and how gene regulation in cancer cells differs from normal cells.


Cancer genomics and precision medicine. Using novel computational algorithms, we seek to identify new cancer mutations and understand why and where cancer mutations occur. We work on determining whether 3D chromatin architecture predicts where mutations are most likely to occur.


Epigenomics of cancer. Genes coding for proteins that modify, maintain or read the epigenome (DNA methylation and histone modifications) and are among the most frequently mutated genes in cancer. We use high-throughput experimental approaches and pattern detection techniques to investigate what these genes do and the genomewide epigenomic patterns they mediate.


Tumor genome evolution, anticancer drug resistance. Cancer is a fundamentally evolutionary disease. Using high-throughput sequencing, we are investigating how the tumor genome (and epigenome) evolves in time and particularly upon drug treatment.



Cancer gene fusion network. Based on 

Sanger Cancer Gene Census data

 (position mouse on a node to identify the gene; you can also move genes around but certain physics laws apply)

Early cancer detection using machine learning. We use advanced machine learning approaches (artificial intelligence techniques) to detect cancer as early as possible and help guide treatment accordingly. One of our algorithms for thyroid cancer detection, based on Support Vector Machines, was recently licensed by Prolias Technologies.


Development of innovative computational approaches for analysis of high-throughput experiments (metabolomics, proteomics, high-throughout sequencing, etc) performed on cancer cells. For example we have developed ChIPseeqer, a broadly used ChIPseq data analysis framework.
Current Areas of Focus
Bioinformatics
Mathematical and Computational Modeling
Cancer Biology