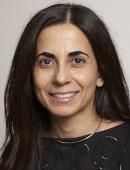 Julie Magarian Blander is a Gladys and Roland Harriman Professor of Immunology at Weill Cornell Medicine (WCM) in New York City, New York, USA.  Dr. Blander is an expert in innate immunity, inflammation, and the innate immune mechanisms that shape adaptive immunity. Dr. Blander received her Ph.D. from the University of Pittsburgh studying tumor immunology under the mentorship of Dr. Olivera Finn.  She conducted her postdoctoral training at Yale University with Dr. Ruslan Medzhitov and the late Dr. Charles Janeway, pioneering the study of the impact of Toll-like receptors on macrophage and dendritic cell function.
Dr. Blander studies various aspects of innate immunity and inflammation and their application to human disease.  Her laboratory has made important contributions to understanding the innate immune response to microorganisms and dying cells in the context of enteric infections, intestinal homeostasis, and vaccination. Dr. Blander's achievements include mechanistic dissection of the regulation of the cell biology of antigen presentation and its application to designing vaccines for infectious disease and cancer, the immune consequences of cell death and its translation into new therapies for inflammatory bowel disease, the exploitation of innate immunity, particularly the inflammasome for cancer immunotherapy, and the discovery of vita-PAMPs, signatures of microbial viability and their exploitation for creating safe and effective vaccines.
Dr. Blander's laboratory was established in 2006 with the appointment of Dr. Blander as Assistant Professor at the Icahn School of Medicine at Mount Sinai. Dr. Blander's promotion to Associate Professor with tenure in 2011 was followed five years later by an appointment as a full professor with tenure at Weill Cornell Medicine-Cornell University in 2016.
Dr. Blander is a member of the Sandra and Edward Meyer Cancer Center at WCM. She is a member of the Executive Committee for the Cornell Center for Immunology, member of the WCM Promotion and Appointment Review Committee, Associate Co-Director of US National Institutes of Health (NIH) T32 training grant to the Department of Medicine Division of Gastroenterology and Hepatology, member of the Senior Research Awards Committee for the Crohn's and Colitis Foundation, Editorial Board member of the Elsevier Journal Current Research in Immunology. She has also served on multiple NIH Center for Scientific Review Study Sections, and the Nominations Committee and Program Committee for the American Association of Immunologists.
Dr. Blander has received numerous awards including the 2021 Jeanne and Herbert Siegal Award for Outstanding Medical Research, the 2021 inaugural 2021 X-Seed Award by Deerfield Healthcare Management, a 2019 Sanofi iAward, a 2017 Weill Cornell Medicine Daedalus Award for Innovation, a Burroughs Wellcome Fund Investigators in the Pathogenesis of Infectious Disease Award, American Cancer Society Research Scholar Award, Searle Scholar Award, J. V. Satterfield Arthritis Investigator Award, Hirschl and Weill-Caulier Scholar Award, Mount Sinai School of Medicine Faculty Council Junior Faculty Award for Academic Excellence, and the 2009 G. Jeanette Thorbecke Society of Leukocyte Biology award. Dr. Blander is an inventor on six patents. Dr. Blander's laboratory is funded by the US National Institutes of Health NIAID and NIDDK, Deerfield Healthcare Management, and the Smart Family Foundation.
Research Topics
Innate Immunity
Tumor Immunology
Autoimmunity