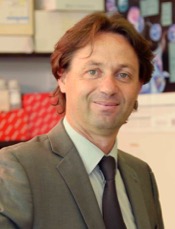 The Barrat Lab is looking at the potential clinical benefit of interfering with nucleic acids sensing and the type 1 IFN response in autoimmune and fibrotic human diseases using both human and mouse approaches.
Research
The main interest of the lab is centered on the understanding of nucleic acid (NA) recognition in the context of autoimmunity and in particular on the potential clinical benefit of interfering with TLR signaling in human diseases.  We are using both human and mouse approaches and have been focusing on the impact that the recognition of self nucleic-acid by TLR7, TLR8, and TLR9 has on end-organ damage, with a specific interest in diseases such as systemic sclerosis, systemic lupus erythematosus and rheumatoid arthritis.
The lab is also interested in how these responses are modulated by NA-binding chemokines, by factors that mimic the tissue micro-environment, such as hypoxia and stiffness, and how key cell types such as B cells, pDCs and macrophages interact under such conditions, both in normal and pathogenic situations. Understanding how these cells are regulated at the transcriptional, epigenetic and metabolic levels represents key areas of research in the lab. Most projects benefit from close collaborations with clinicians from the hospital who provide clinical samples and expertise.
Figure 1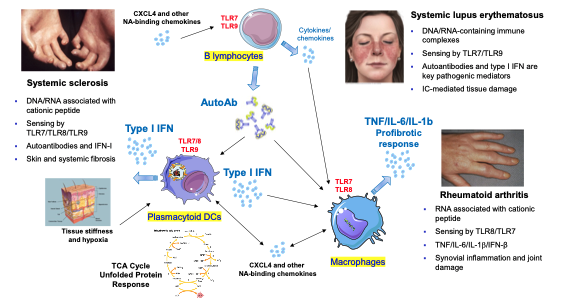 Current Projects:
Autoimmune and fibrotic diseases
Plasmacytoid DC biology
Nucleic acids sensing
Metabolic regulation of immune cells
Cell-tissue interactions
Bio
Dr. Barrat earned his bachelor's degree in biochemistry from the University of Nice and his master's degree in Immunology from the Pasteur Institute in Paris in 1995. He obtained his Ph.D. from University Paris-Descartes in 1998 under the co-mentorship of Dr. de Saint Basile and Prof. Fischer. Dr. Barrat then joined DNAX in Palo Alto for his postdoctoral work under the mentorship of Dr. Anne O'Garra. He spent >15 years working in small biotech (Dynavax Technologies) and large pharmas (Schering-Plough, Roche) before transitioning to academia in 2013. Dr. Barrat now holds the Michael R. Bloomberg Chair at the Hospital for Special Surgery and is Professor of Microbiology and Immunology at the Weill Cornell Medical College. 
Current Areas of Focus
Autoimmunity
Innate Immunity