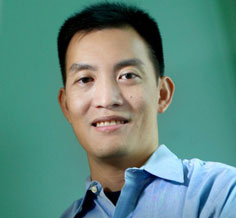 The Tan Lab develops new chemical probes to investigate fundamental biological processes and to explore new therapeutic opportunities in cancer and infectious diseases.
Research
The identification of small-molecule probes and therapeutic lead compounds to address novel biological targets is a significant current challenge in chemical biology and drug discovery. We are engaged in a two-pronged approach to this problem involving diversity-oriented synthesis and rational design as complementary approaches to ligand discovery. Our work in both of these areas is influenced at multiple levels by insights from natural products. At the core of these efforts is the development of new chemical methodologies to provide flexible, efficient, systematic access to these structures. We leverage multidisciplinary collaborations with biologists to evaluate these molecules to probe key biological processes and to explore new therapeutic opportunities in cancer and infectious diseases. 
Figure 1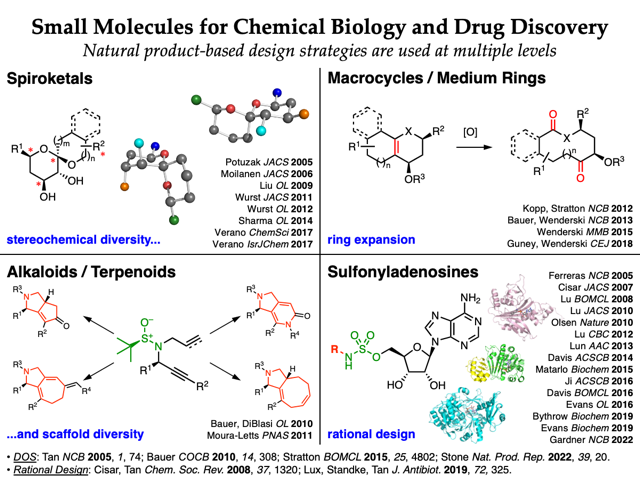 Current Projects:
Synthesis of Natural Products and Analogues

 

Adenylate-Forming Enzyme Inhibitors as Antibiotics and Probes

 

SEAKER Cells that Activate Small-Molecule Drugs Locally at Tumors

 

SPEAR-GN Platform to Predict Small-Molecule Permeability in Bacteria

 

Chemistry and Biology of Bacterial Diisonitrile Chalkophores

 
Bio
Derek S. Tan received his BS in Chemistry from Stanford University in 1995, working with Prof. Dale G. Drueckhammer.  He went onto graduate studies with Prof. Stuart L. Schreiber at Harvard University and received his PhD in Chemistry in 2000.  He then joined the laboratory of Prof. Samuel J. Danishefsky at the Memorial Sloan Kettering Cancer Center (MSK) for his postdoctoral training.  He began his independent career in 2002 in the Sloan Kettering Institute of MSK, where he is now a tenured Member and Chair of the Chemical Biology Program.  He is also the incumbent of the Eugene W. Kettering Chair and a Tri-Institutional Professor at Weill Cornell Medicine and The Rockefeller University.  Since 2012, he has served as Director of the Tri-Institutional PhD Program in Chemical Biology. 
Distinctions:
Dean's Award for Excellence in Teaching and Mentoring, Weill Cornell Graduate School of Medical Sciences (2013) 

 
Current Areas of Focus
Chemical Biology
Drug Discovery and Development
Molecular Pharmacology