Bio
Carl Blobel obtained his MD degree from the Justus-Liebig University in Giessen, Germany, and a PhD in Biochemistry and Biophysics from UCSF. He is currently a Senior Scientist and Program Director of the Arthritis and Tissue Degeneration Program at the Hospital for Special Surgery, where he holds the Virginia F. and William R. Salomon Chair in Musculoskeletal Research. He is also Professor of Medicine and of Physiology, Biophysics and Systems Biology at Weill Cornell Medicine.
In 2015, Dr. Blobel was elected to the Association of American Physicians in recognition of his outstanding contributions to medicine. In 2017, he was awarded a Distinguished Affiliated Professorship by the Technical University of Munich in 2017, which recognizes "researchers of international prominence who have not only significantly shaped their own discipline but have also inspired other areas within the scientific community." Dr. Blobel has over 13,500 citations in the Web of Science Core collection ISI citation report and an h-factor of 69 (Oct. 2021).
Research Description
The iRhom/ADAM17 signaling axis: a key regulator of TNF-α , IL-6R and EGFR signaling 
Major Focus: Uncovering the role of iRhoms and ADAM17 in development and disease, with an emphasis in autoimmune diseases such as Rheumatoid Arthritis (RA), Systemic Lupus Erythematosis Glomerulonephritis (SLE GN) and neuroinflammation.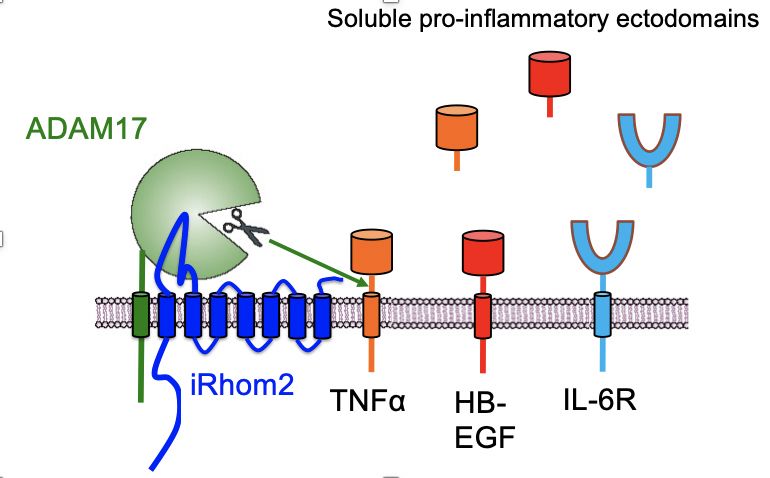 Research in my lab is focused on elucidating the functions of cell surface metalloproteinases termed ADAMs (a disintegrinand metalloproteinase) in development and disease. ADAMs have emerged as critical modulators of cell-cell interactions because they regulate the bioavailability of membrane proteins such as the pro-inflammatory cytokine TNF-α and ligands of the EGF-receptor (EGFR). Studies in my lab employ a synergistic combination of approaches, including biochemistry, cell biology, mouse models for development and disease and analysis of patient samples. Work in my lab has helped establish that ADAM17 is a key regulator of the EGFR signaling pathway, which is essential for maintaining the skin and intestinal barrier but can cause a variety of human pathologies when it is dysregulated. Moreover, my lab has pioneered studies on the newly discovered iRhom1 and 2 as crucial upstream regulators of ADAM17-dependent EGFR and TNF-α-signaling. By elucidating how exactly iRhoms and ADAM17 interact, we have provided exciting new insights into the basic biology of these fascinating proteins and have identified new and attractive potential targets for treatment of autoimmune diseases and cancer.
What are the main iRhom/ADAM17-dependent signaling pathways?
The cell surface metalloprotease ADAM17 (a disintegrin and metalloprotease 17) has a crucial role in regulating several major medically relevant signaling pathways, including TNF-α and IL-6R signaling, both established targets for treatment of autoimmune diseases, and EGF-receptor signaling, which is important for normal development and adult homeostasis, but can also promote cancer and autoimmune disease.  ADAM17 is controlled by its essential partners, the seven membrane-spanning inactive Rhomboid proteins iRhom1 and 2.  Together with the iRhoms, ADAM17 acts as a set of signaling scissors that cleave and release membrane proteins from cells. This process, referred to as "protein ectodomain shedding", can activate or inactivate the substrate protein, or substantially change its functional properties. Dysregulation of iRhom/ADAM17 signaling can cause Rheumatoid Arthritis, Systemic Lupus Erythematosis-Glomerulonephritis and other diseases such as neuroinflammation and defects in heart valve development.  ADAM17 can be rapidly and post-translationally activated by a variety of signaling pathways, and the iRhoms have emerged as essential regulators of ADAM17 and of its substrate targeting.  Work in our lab set the stage for the foundation of the biotech startup SciRhom, which has developed novel function blocking antibodies against iRhom2 in order to improve the treatment of patients suffering from autoimmune diseases. Our current knowledge of the iRhom/ADAM17 complex is just the tip of the iceberg, and many exciting questions remain regarding the regulation and function of these fascinating molecules, such as how they target and process their substrates, how these functions are controlled, and what role the iRhom/ADAM17 signaling hub has in development, autoimmune diseases, neuroinflammation and cancer.
Key publications:
Function and regulation of ADAM17 as principal sheddase for EGFR-ligands and TNF-α.
Sahin, U., 2004. Distinct roles for ADAM10 and ADAM17 in ectodomain shedding of six EGFR-ligands. J. Cell Biol. 164:769-779.
Blobel, C.P. 2005. ADAMs: key components in EGFR signalling and development Nature Reviews Mol. Cell. Bio. 6:32-43.
Horiuchi, K., 2007. TNF-α-converting enzyme (TACE/ADAM17) inactivation in mouse myeloid cells prevents lethality from endotoxin shock. J. Imm. 179:2686-2689
Le Gall, S.M. 2010. ADAM17 is regulated by a rapid and reversible mechanism that controls access to its catalytic site. J. Cell Science. 23(Pt 22):3913-22
Franzke, C.W., 2012. Epidermal ADAM17 maintains the skin barrier by regulating EGFR ligand-dependent terminal keratinocyte differentiation. J. Exp. Med. 4;209(6):1105-19.
Discovery of the iRhoms, key regulators of ADAM17 (collaboration with Prof. Tak Mak and Dr. David McIlwain, Univ. of Toronto)


McIlwain, D.R., 2012. iRhom2 regulates innate immunity via TACE/ADAM17. Science 335:229-32
Maretzky, T., 2013. iRhom2 controls the substrate selectivity of stimulated ADAM17-dependent ectodomain shedding. Proc. Natl. Acad. Sci. U S A. 110(28):11433-8
Li X., 2015. iRhoms 1 and 2 are essential upstream regulators of ADAM17-dependent EGFR signaling. Proc. Natl. Acad. Sci. U S A. 112(19):6080-5.
Li, X., 2017. Structural modeling defines transmembrane residues in ADAM17 that are crucial for Rhbdf2-ADAM17-dependent proteolysis. J Cell Sci. 130(5):868-878. doi: 10.1242/jcs.196436
Weskamp G, 2020. ADAM17 stabilizes its interacting partner inactive Rhomboid 2 (iRhom2) but not inactive Rhomboid 1 (iRhom1). J Biol Chem. Mar 27;295(13):4350-4358.
Tang B, 2020. Substrate-selective protein ectodomain shedding by ADAM17 and iRhom2 depends on their juxtamembrane and transmembrane domains. FASEB J. Apr;34(4):4956-4969.
Translational relevance of iRhom2/ADAM17
Issuree, P.A., 2013. Novel role for IRHOM2 in the pathogenesis of inflammatory arthritis. J. Clin. Inv. 123(2):928-32
Qing X, 2018. iRhom2 promotes lupus nephritis through TNF-α and EGFR signaling. J Clin Invest. 128(4):1397-1412.
Haxaire C, 2018. Blood-induced bone loss in murine hemophilic arthropathy is prevented by blocking the iRhom2/ADAM17/TNFα pathway. Blood 132(10):1064-1074
Current funding: NIH-R35GM134907, SciRhom
Past: NIH-R01GM64750, GM58668, EY15719, NSF, Novartis, Astra Zeneca, GSK, Pfizer CTI, DoD, Institute for Advanced Studies, Technical Univ. Munich.
Students and Postdocs welcome!
Current Students:
Yi Zhao, WCM BCMB (yiz2012@med.cornell.edu)
Selective targeting of EGFR ligands through iRhoms 1 and 2.
Yi is a 6th year graduate student in BCMB program. Yi joined Dr. Blobel's lab in 2018 and is currently working on deciphering the interaction between iRhom1/2 and EGFR ligands. She received her bachelor's degree from Peking University in China with a major in pharmaceutical science. Yi enjoys spending her free time playing with her cats and making Chinese dishes.
Stephanie Azzopardi, Tri-I MD/PhD (sta2017@med.cornell.edu)

Role of iRhom2 in neuroinflammation and olfaction
Stephanie graduated from Macaulay Honors at Hunter College in 2016, spent two years as a research assistant in Charlie Rice's Laboratory at the Rockefeller University, and entered the Tri-I MD-PhD program in 2018. Her interest in inflammation and immunology led her to join the Blobel Laboratory, where she is co-mentored by Dr. Blobel and Dr. Jane Salmon. Outside of the lab, Stephanie enjoys leaving the concrete jungle to be out in nature.
Ariana Rabinowitsch Tri-I MD/PhD       (arr2013@med.cornell.edu)     
iRhom2 mutations in human disease
Ariana Rabinowitsch joined the Tri-Institutional MD-PhD program in 2016. Prior to her tenure as an MD-PhD student she completed her B.A. in Biochemistry at New York University and subsequently worked as a Research Technician at NYU Langone Medical Center. When she isn't working on understanding disease causing mutations in iRhom2 she can be found toiling over new recipes for delicious baked treats.
Current Assistant Scientist (Research Track):
Gisela Weskamp, PhD Inhibitors of iRhom2 for treatment of autoimmune disease
Technician:
Alejandra Vela Moreno

Lab Alums Students:
Lawrence Lum, MD/PhD: Assoc. Prof. at UT-Southwestern, then CEO, Cancer
Systems Therapeutics, Pfizer, San Diego, now Senior Director at Loxo Oncology at Lilly, San Diego, CA

Hanno Schlöndorff, MD/PhD: Assist. Prof. Medicine, Harvard Med. School, Boston, MA

Umut Sahin, PhD: Assoc. Prof. Boğaziçi University, Istanbul, Turkey

Yufang Zhang, PhD: Professor at Fudan University, Shanghai, China

Priya Issuree, PhD: Assistant Professor at the Univ. Iowa, Carver College of Medicine, Coralville, IO
Krzysztof Glomski, MD/PhD: Clinical Pathology, Mass. General Hospital, Boston, MA

Karen Mendelson, PhD: Senior Scientist, Mt. Sinai Health System, NY, NY

Xue Li, PhD: Chief of Staff, Corporate Strategy, Roche, Shanghai, China

Rolake Alabi, MD/PhD: Resident, Ophtalmology, UCSF, San Francisco, CA

Greg Farber, PhD: Postdoc, UNC Mc Allister Heart Institute, Chapel Hill, NC

Beiyu Tang, PhD: MediTech Media, New York, NY

Nicole Lustgarten-Guahmich, PhD: Postdoc, Reproductive Biology, Weill Cornell  Medicine

Jose Lora, PhD: graduated 12-21
Visiting Graduate and Medical Students
Daniel Hill MD, Dara Froehmel MD, Francesca Cardello MD, Renpeng Fang MD, Asheesh Harsha MD, Ren Zhao MD, Chao Li, MD, Arda Celen
Postdocs
Lucie Peduto, PhD: Head of the Laboratory for Stroma, Inflammation and Tissue Repair, Pasteur Institute, Paris, France
Kei Horiuchi, MD/PhD: Professor, Keio University, Tokyo, and National Defense Medical College, Japan

Thorsten Maretzky, PhD: Assistant Professor at the Univ. Iowa, Carver College of Medicine, Coralville, IO

Victor Guaiquil, PhD: Assistant Research Professor, Univ. of Illinois-Chicago, Chicago, MI

Claus Franzke, PhD: Professor, University Clinic of Freiburg, Germany

Sylvain Le Gall, PhD: Maison La Varenne, Versailles, France

Linda Howard, PhD: Lecturer, National University of Ireland, Galway, Ireland

Jörn Krätzschmar, PhD: Director Experimental Medicine, Bayer Pharmaceuticals, Berlin Germany

Nobuko Kawaguchi: Hospital Assistant Professor, Kyoto University, Kyoto, Japan

Stephen Swendeman: Research Associate, Boston Children's Hospital, Harvard Medical School, Boston, MA

Astrid Evers, PhD: Program Officer, German Research Foundation, Bonn, Germany

Hongming Zhou, PhD: Assistant Research Professor, Indiana University School of Medicine, Indianapolis, IN

Jordi Malapeira, PhD: Research Project Manager, Univ. Autonoma di Barcelona, Barcelona, Spain

Nina Hewing, MD: Ophthalmology, Muenster, Germany

Coline Haxaire, PhD: Senior Research Scientist, Avon Research, Suffern, NY

Monireh Roghani, PhD

Karen Nelson, PhD

Valerie Chesneau, PhD
Research Topics
Cellular Signaling and Regulation
Membranes and Membrane Proteins