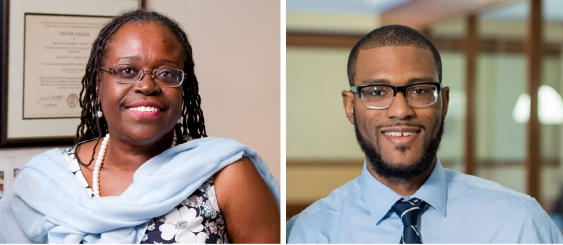 Dear Weill Cornell Medicine Community,
I am pleased to announce the creation of two new leadership positions to support our students and enhance our climate of diversity.  Dr. Elizabeth Wilson-Anstey and Dr. Marcus Lambert have both been appointed to the role of assistant dean of diversity and student life.  Together they will lead a revitalized effort to ensure that the needs of our diverse medical and graduate student populations are met.
Diversity is one of Weill Cornell Medicine's core values, and we are committed to intensifying our efforts to build an even stronger culture of inclusion on campus.  In their new roles, Dr. Wilson-Anstey and Dr. Lambert will focus on improving our ongoing efforts to recruit and matriculate a talented and diverse group of students, further develop a robust suite of diversity programming, and ultimately create a vibrant and supportive community for our medical and graduate students from diverse backgrounds.  They will coordinate closely with the Office of Diversity and Inclusion and will continue to serve on our Diversity Council.
These leadership appointments are part of a reorganization of the medical college's current Office of Student Affairs into two new offices, the Office of Student Life and the Office of Student Diversity.  Dr. Dana Zappetti, associate dean for student affairs, will lead the Office of Student Life and direct new and ongoing wellness initiatives, interface with student leadership, and liaise with various campus offices such as Housing and Financial Aid. The Offices of Student Life and Student Diversity, which are located in newly renovated and welcoming space in Olin 110, will work closely together to offer a high level of coordinated services for all medical and graduate students.  Dr. Zappetti and Dr. Jonathan Avery, assistant dean for student affairs, will continue to provide support and assistance to all students.
In her previous role as assistant dean for student affairs, Dr. Wilson-Anstey has played a significant role in recruiting a diverse medical student body and advising premedical students.  She is the director of the Travelers Summer Research Fellowship Program for premedical students, teaches a fourth-year elective on diversity and inclusion in medicine, and serves on multiple committees related to diversity, student life, and community service.  Dr. Wilson-Anstey received her EdD degree in executive leadership in 2016 from St. John Fisher College, after completing a dissertation on the effectiveness of the Travelers program.
Dr. Lambert joined the Weill Cornell Graduate School of Medical Sciences in 2014 and, in his previous role as director of diversity and student services, was responsible for managing diversity initiatives, science outreach, housing, and immigration services for our graduate students.  He received his PhD in biomedical science from New York University School of Medicine and completed an internship studying education policy and mentoring programs at the New York Academy of Sciences.  Dr. Lambert's research interests lie in understanding the factors that contribute to the retention of minority students and trainees in the academy. 
Please join me in congratulating Dr. Wilson-Anstey and Dr. Lambert on their new positions.  We anticipate that these leadership positions and the reimagined Offices of Student Life and Student Diversity will foster an even more diverse community of physicians- and research scholars-in-training, while enriching the learning environment for all our students.
Sincerely,
Augustine M.K. Choi, MD
Stephen and Suzanne Weiss Dean
Weill Cornell Medicine
Posted:
May 12, 2017