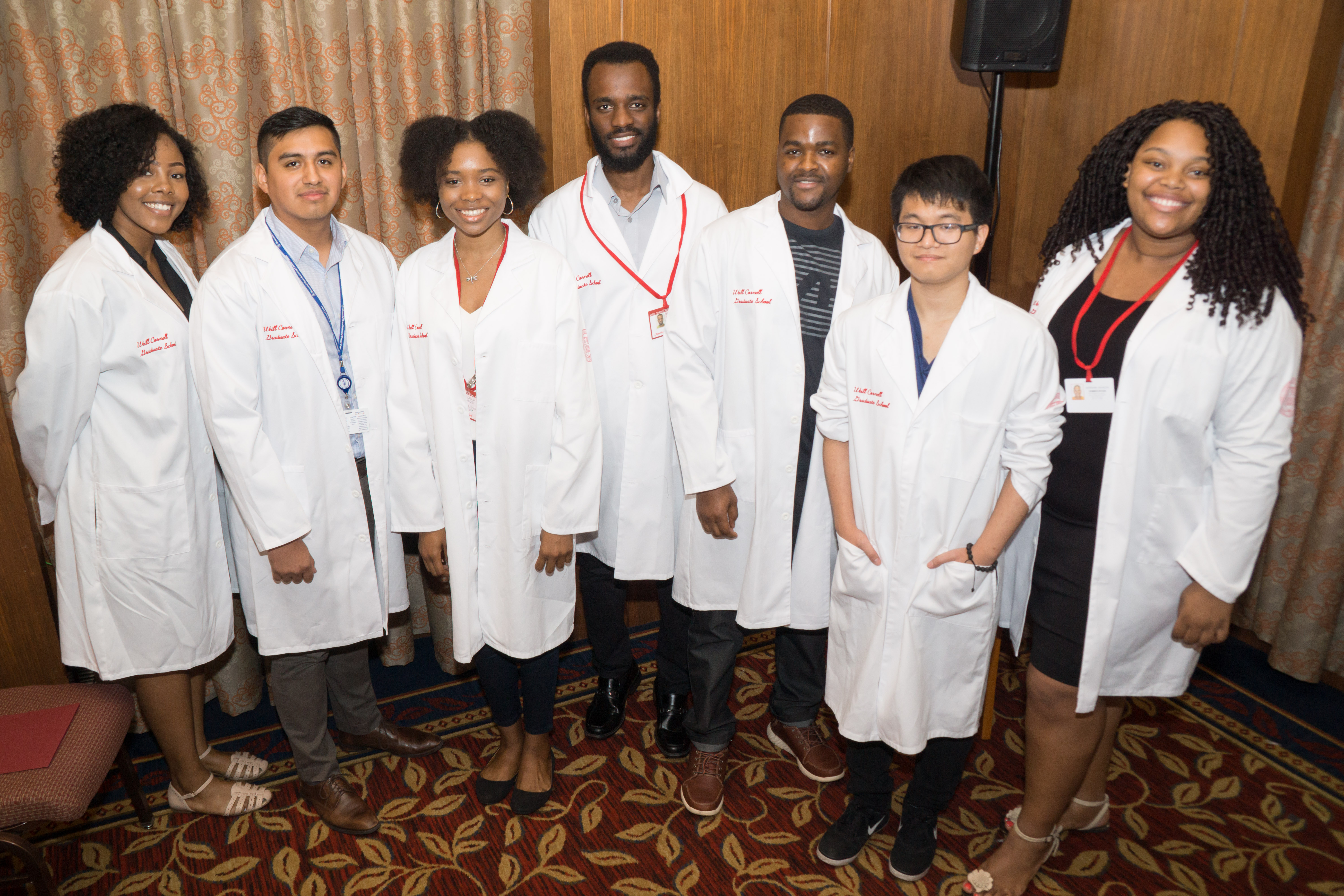 Last month, 7 students graduated from the Tri Institutional Minority Society Summer Scholars Research Program (TIMS SSRP) in a short ceremony followed by a poster session in Griffis Faculty Club at Weill Cornell.
An unprecedented effort supported collectively by Rockefeller University, Weill Cornell and the Sloan Kettering Office of Diversity, the goal of the TIMS SSRP is to increase minority recruitment and retention in the sciences. Specifically, the program provides cutting edge biomedical research internships to minority, low income college undergraduates with limited research experience.
TIMS SSRP was conceived and founded in 2015 by Dr. Fon Powell (Weill Cornell, PhD '17) while still a graduate student. Powell cites a need to expose talented minority undergraduates to science early in their careers as motivation for starting the program. Powell led the program as a Co-Director in 2015 along with graduate student Luisi Hernandez and postdoctoral fellow Dr. Kiel Telesford PhD. In 2016, the program expanded to 7 scholars and Powell returned to lead the program as Director supported by a leadership board of four Weill Cornell graduate students – Susannah Calhoun, Rudy Jacquet, Jamal Elkhader and Camir Ricketts.
Participants in the TIMS SSRP were selected from a pool of talented applicants that were fellows at America Needs You, a local non-profit promoting educational mobility. The 7 participants came from a range of schools, including Lehman College, Binghamptom University, City College and Hunter College. Summer research experiences conducted in labs across the Tri-I over the course of the 10 week program ranged from mechanical engineering, to biochemical mechanisms of Alzheimer's Disease to behavioral mouse models of Parkinson's disease. 
For most participants, the TIMS SSRP represented their first exposure to conducting scientific research in a mentored lab environment. As such, in addition to laboratory research, the participants spent Friday mornings in a "Scholar Fridays" 2 hour lecture. During Scholar Fridays, students led journal clubs and heard lectures about relevant topics such as scientific writing, statistics and experimental design. Powell conceived the curriculum for Scholar Fridays with input from the TIMS SSRP leadership board. On select Fridays, minority scientists and physicians from the Tri I community came in to share their personal stories and scientific journeys. Selected speakers included Weill Cornell medical student Josh Adjei, Weill Cornell's Dr. Romulo Hurtado PhD and Memorial Sloan Kettering's Dr. Melody Smith MD.
The summer culminated with each student writing a research report, giving a 15-minute oral presentation to the wider Tri-I community and participating in a poster session.  
2017 marks the end of a successful year for the TIMS SSRP with plans to continue and expand the program for a third year in 2018.
For more photos and information about the Tri-Institutional Minority Society, please visit TIMSnyc.org.
Photos by Chela Crinnion
Posted:
September 29, 2017