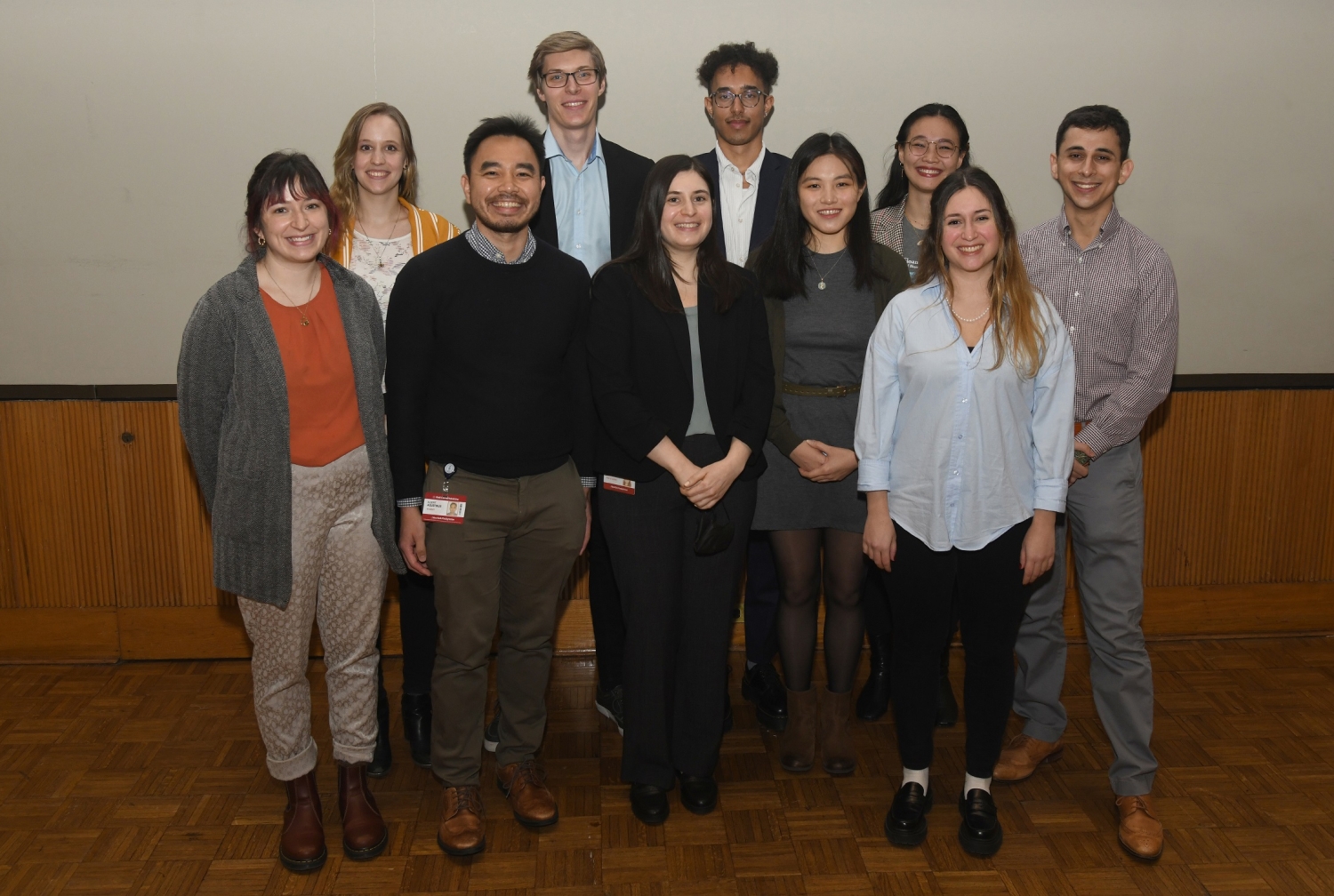 More than 160 faculty and students filled Uris Auditorium Dec. 5 to hear doctoral candidates deliver bite-size presentations of their research in an entertaining way. The catch? They had to deliver their work in three minutes or less.
Oftentimes, the theses presentations were full of puns and good humor. From likening the ability of the blood-brain barrier to block the easy passage of molecules to a strict bouncer standing imposingly at a party's entrance, and depicting a RAS mutant and its protein accomplices as pop culture pairs like Pixar film "Ratatouille's" Remy the rat and would-be chef Linguini, each student presenter communicated complex research through language meant to be accessible to non-specialist scientists' ears.
The presentations were part of this year's Three-Minute Thesis (3MT) competition — the annual contest for students in the Weill Cornell Graduate School of Medical Sciences and Gerstner Sloan Kettering Graduate School.
Held completely in person for the first time since the start of the COVID-19 pandemic, the event featured 10 doctoral students who had exactly a three-minute time limit and a single slide to describe their work to a non-specialist audience. The participants were assessed by a panel of students, faculty and staff.
"The Three Minute Thesis is such a special event for Weill Cornell Graduate School of Medical Sciences, giving our students the chance to hone their skills as research communicators and innovators of tomorrow," said Dr. Anjali Rajadhyaksha, associate dean of program development for the graduate school. "It is also fun, with students embracing creativity and humor in describing their research."
The first-place winner was Viktor Belay, a fourth-year doctoral student in Weill Cornell Graduate School of Medical Sciences' Physiology, Biophysics, and Systems Biology program. Belay's presentation was titled "A Dance of Molecules." He depicted the constant changes proteins undergo as they affect the body's physiological functions by way of a TikTok dance.
On his slide, Belay showed screenshots of himself performing different dance moves on the popular social media app, with each variation — including an outfit change and a guest appearance from his friend's cat — akin to the ways proteins rearrange their structures and how "guest" molecules (in this case, said feline) change their functions. Belay said his work that takes imaging of molecules and uses computer simulations of atomic movements in a protein to see how they change and respond to pharmaceutical agents, for example, is a lot like snapping a "screenshot of a TikTok dancer" mid-move.
"Everyone, especially younger generations, knows what TikTok is," Belay said after the event. "It's super relevant. It helped me move the dancing molecule metaphor into a place where I could say something universally understandable like 'okay, if you take a screenshot of a TikTok dance' to convey complex ideas about cutting-edge molecular imaging technology."
The 10 contestants were selected out of 16 during an initial preliminary session. The top-three finishers and the "people's choice" winner, which was decided by the audience — each received a $500 grant.
Yung Yu Wong, a second-year GSK student, won second place as well as the people's choice award for her presentation "T cell Intelligence: To Kill or Not to Kill?" while David van Dongen, a fourth-year GSK student, received the third-place prize for "Oncogenic Accomplice: RCE1 Aiding and Abetting RAS."
For her part, Wong said she felt "very honored" to win the people's choice prize. Van Dongen added that "to be named one of the winners when competing against others who performed so well really felt like an honor."
Dr. Aubrey DeCarlo, manager of career and professional development at the Weill Cornell Graduate School of Medical Sciences and one of the event's co-organizers, along with Dr. Thalyana Stathis, associate director of the Office of Career and Professional Development at Memorial Sloan Kettering Cancer Center, said the contest is "an opportunity for people who don't understand the science to grasp it. In the sciences, it's so important to gain those communication skills and be able to convey the value of their work to non-specialists."
Belay said this is something he is especially passionate about.
"I think the most important thing for us, except for making new discoveries, is actually communicating what we are doing for the public," he added. "Ultimately, what we are doing is for the public. We are working super hard in the medical field to make discoveries that, at some point, we hope will improve health care outcomes."