The Biochemistry, Structural Biology, Cell Biology, Developmental Biology and Molecular Biology graduate programs at Weill Cornell Graduate School are collectively known as the BCMB Allied program. Students may affiliate with any of the three programs, however they are initially admitted to, and remain members of, the BCMB Allied program overall.
The Biochemistry, Structural Biology program offers opportunities for advanced training in the application of biochemical, structural, biophysical and imaging methods, to addressing questions relating to biological processes and mechanisms. The Cell and Developmental Biology program comprises over 80 affiliated faculty members whose research focuses on a wide range of topics related to the control of normal and malignant cell growth, differentiation, tissue development and stem cell biology. Lastly, the Molecular Biology program offers opportunities to develop research training in the molecular pathways involved in control of cell growth, replication and responses to environmental changes. These pathways are remarkably intricate, tying together nearly all the fundamental processes of cellular metabolism. For example, the products of oncogenes, including both tumor-suppressing and tumor-enhancing genes, have been discovered to participate in pathways as seemingly diverse as signal transduction, repair of damaged DNA, regulation of gene expression and control of the cell cycle.
Becoming a Doctoral Candidate
In their first year, BCMB Allied students take the program's core curriculum courses in molecular genetics, biochemistry and structural biology, cell biology, gene structure/function, and logic and critical analysis. A course list and course descriptions are available at: Courses.
Read more here.
PhD Research and Degree
Within six months of passing the ACE, the student must submit a five-page thesis project description to the Special Committee and meet with the committee for its approval. Thereafter, the student and the committee meet together regularly - at least annually - from year two until the student's graduation.
Read more here.
BCMB Academic Timeline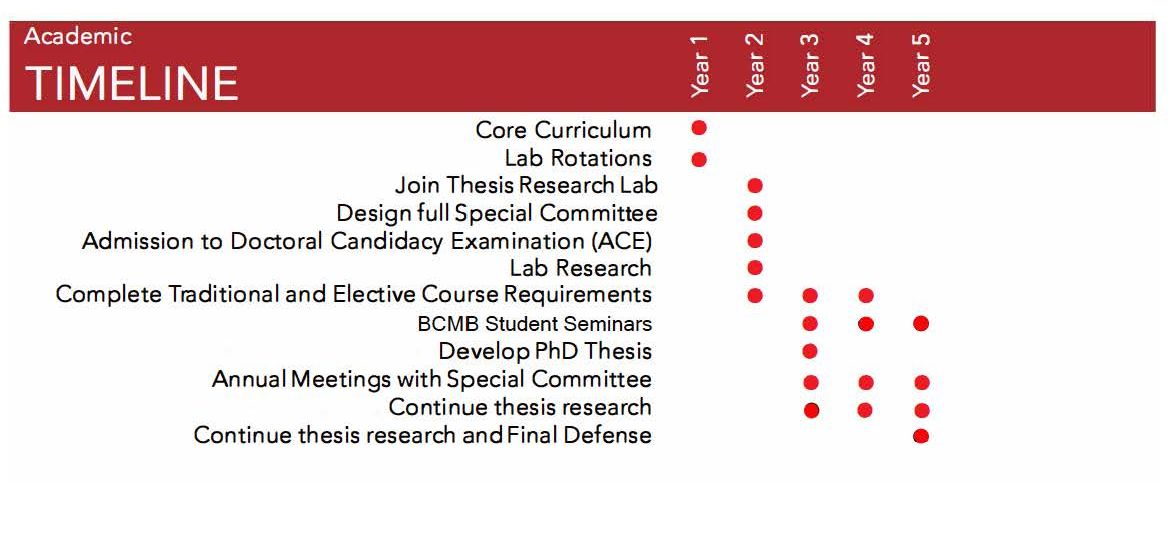 To learn more about the program, research topics, and affiliated faculty for each program, review the menu on the right.
Program Leadership
Program Co-Directors
Program Coordinator
First Year Mentor