Omar Alvarenga
Omar is co-mentored by Dr. Alessio Accardi and Dr. George Khelashvili. In his research, he employs both computational and experimental methods to further his goal of better understanding the molecular mechanisms and nuances of phospholipid scrambling by TMEM16 family members. During his free time, he enjoys indoor bouldering, baking, & making music.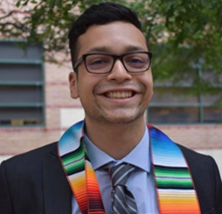 Juan Casteneda
Juan received his B.S. in Biology from Tufts University in 2018, where he explored DNA repair in the lab of Dr. Mitch McVey. He spent the following year working as a research technician in the lab of Dr. David Whitcomb at the University of Pittsburgh elucidating molecular markers of chronic acute pancreatitis. In 2019, Juan began his PhD in the BCMB Allied Program at Weill Cornell and joined the lab of Dr. Dirk Remus. Juan is interested in understanding the architecture of clamp loaders and clamps to better understand their various roles in genome integrity.  During his free time, Juan enjoys bouldering, running, and board games.
Vishnu Ghani
Vishnu received dual B.S.s in Mathematics and Physics from Stony Brook University in 2016. He spent the following three years working as a research assistant/technician in the lab of Dr. Tarun M. Kapoor at Rockefeller University to build and maintain fluorescent-based microscopes for in-vivo and in-vitro experiments. During his time there, he developed an appreciation for instrumentation and technology/strategies to overcome limitations of systems. It also inspired him to further his understanding of biological systems and to contribute innovated ways to overcome imaging limitations. In 2019, Vishnu began his PhD in the PBSB Program at Weill Cornell and joined the lab of Dr. Olga Boudker. Vishnu is interested utilizing different approaches (biochemical, imaging, bioinformatics) to resolve fundamentally difficult to characterize proteins.  
Gia Romano
Gia received her B.S. in Cell and Molecular Biology from San Francisco State University in 2016.  After graduating, Gia worked as a research associate in Dr. Roshanak Irannejad's lab at UCSF studying G protein-coupled receptor organelle-based signaling and membrane trafficking. In 2019, Gia started her PhD in the Physiology, Biophysics, and Systems Biology program at Weill Cornell and joined the lab of Dr. Joshua Levitz. She is interested in the development and application of photopharmacological and biophysical tools to elucidate molecular and cellular mechanisms of synaptic transmission and modulation.