Weill Cornell Graduate School (WCGS) invites brilliant undergraduates from across the country to intern in our laboratories each summer. The Advancing Cornell Career Experiences for Science Students (ACCESS) summer internship program has been active since 1993 and now boasts over 240 alumni!
This successful program, run by a dedicated team of WCGS faculty, staff, and students, acts as a pipeline to entry into competitive graduate and medical professional programs. Dr. Melissa Boneta Davis, Assistant (Interim) Professor of Cell and Developmental Biology and Scientific Director for the International Center for the Study of Breast Cancer Subtypes, and Dr. Avelino Amado, Diversity Program Manager, spearheaded the development of this year's programing with the support of two graduate research assistants, Chloe Lopez-Lee (G3, Neuro) and Ifeh Akano (G2, Pharm). Ms. Chantel Gooding and Dr. Megan Allen also assisted with administration and development of a fellowship writing workshop.
Although the program faces challenges due to several lasting COVID-related restrictions, it continues to provide rigorous scientific training for students. In the words of our new interim director, Dr. Davis, "The ACCESS program provides an imperative first look at research career journeys, immersive experiences in conducting world-class research, and specific training towards successful graduate school application and matriculation. Because the program is geared toward increasing research experiences for under-represented minorities, we are inherently improving the state of disparities in STEM careers." In fact, five former alumni are currently enrolled in WCGS PhD programs!
In addition to the laboratory experience, students attend lectures and discussions aimed at enhancing their understanding of biomedical research and the pathways available for entering research careers. Students also participate in weekly journal clubs, attend workshops that teach them how to prepare for interviews and seminars, and take part in social activities. Last year, we introduced a National Science Foundation Graduate Research Fellowship writing workshop, which resulted in one student receiving the award. 
The ACCESS program, and others like it, strive to ensure an inclusive community where diversity is the starting point for the development of creative solutions to challenging scientific problems. These programs provide community and inclusivity for all students, but are especially meaningful to our URM student populations. Dr. Davis noted that the ACCESS scholars come to us with eager minds and a life-long learning potential. This program provides the resources and opportunity for them to thrive. Dr. Davis also added that she benefited from such a program as an undergraduate, and it was transformative to her perception of science. 
Lastly, we thank all of the PI's who volunteered as mentors this year. Please reach out to Dr. Avelino Amado (aca4001@med.cornell.edu) if you are interested in becoming a mentor in the future.
Let's welcome the the 2021 ACCESS Scholars!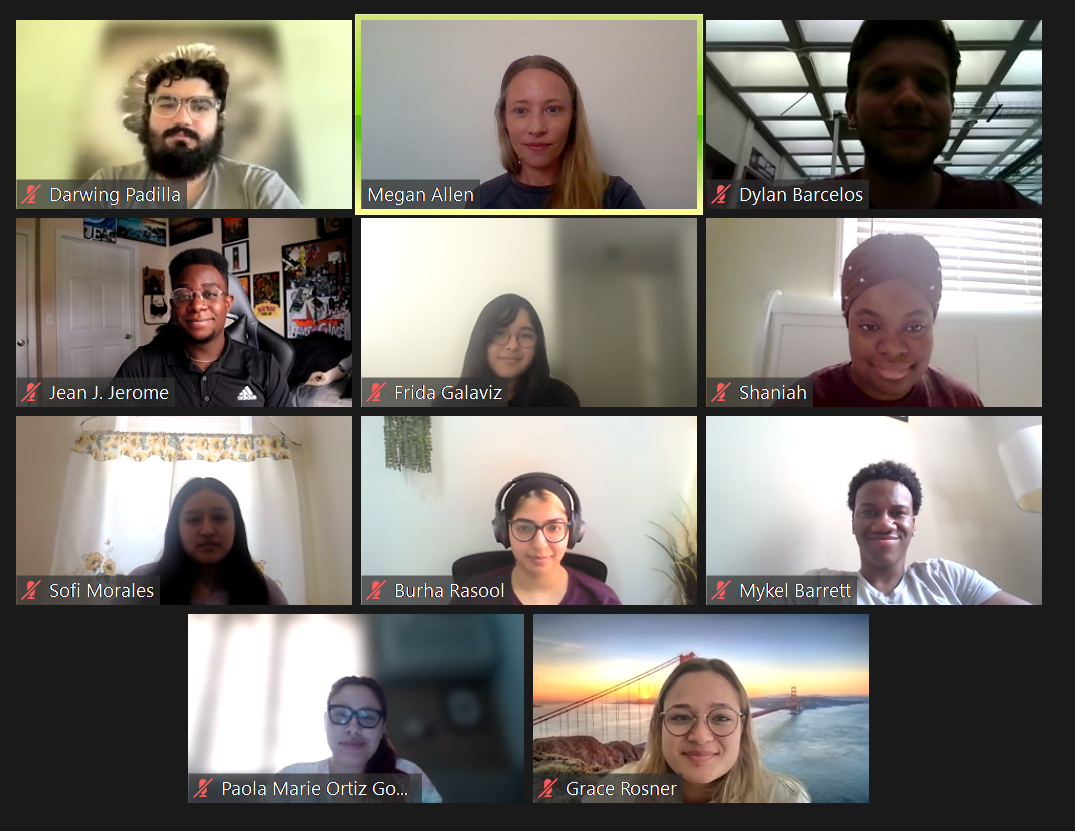 Frida Galaviz Huerta
Rising senior, NYU, Psychology
Winkler Lab, WCM
Burha Rasool
Rising senior, City College of New York, Biochemistry
Zeng Lab, WCM
Grace Rosner
Rising senior, Colorado College, Double major in Molecular Biology and Classics
Kharas Lab, MSKCC
Mykel Barrett
Rising senior, The City College of New York, Biology
Eliezer Lab, WCM
Sofia Alvarado
Rising junior, Franklin & Marshall College, Bioinformatics
Davis/Sboner Labs, WCM
Shaniah Prosper
Rising senior, Simmons University, Neuroscience
Milner Lab, WCM
Jean Jerome
Rising senior, University of Central Florida, Double major in Biotechnology and Computer Science
Accardi Lab, WCM

Darwing Padilla Rolon
Rising senior, University of Puerto Rico at Cayey, Biology
Josefowicz Lab, WCM
Dylan Barcelos
Rising senior, University of Massachusetts Amherst, Double major in Biochemistry and Molecular Biology
Apostolou Lab, WCM
Paola Ortiz Gonzalez
Rising senior, Pontifical Catholic University of Puerto Rico, Double major in Biology and Biomedical Sciences
Guo Lab, WCM