WCGS third-year Ph.D. Pharmacology students Svena Verma and Albert Agustinus were recently awarded Drug Discovery Predoctoral Fellowships in the amount of $25,000 per year for two years from the PhRMA Foundation. They are two out of just five recipients of this prestigious fellowship.
The PhRMA Foundation is a national non-profit organization dedicated to supporting a variety of research projects to help advance innovative scientific research and education by awarding fellowships and grants.
Svena Verma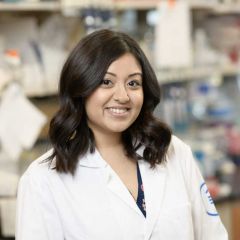 Svena Verma's current project in the Wolchok and Merghoub Lab focuses on the metabolic alterations within the melanoma microenvironment, their adverse effects on the immune compartment and how to rationally target tumor metabolism in combination with immunotherapies. Her PhRMA fellowship application entitled "Pharmacological Manipulation of Tumor Gycolysis to Improve Responses to Immune Checkpoint Blockade" will support this research over the next two years.
Svena credits a former post-doctoral fellow in Dr. Wolchok and Merghoub's group, Roberta Zappasodi, Ph.D., with providing the foundational research of her thesis project. "Dr. Zappasodi found that genetically dampening tumor glycolysis by knocking down LDH-A in cancer cell lines led to an improved response to immune checkpoint blockade in murine models of melanoma and breast cancer," Svena explains. "Therefore my research focuses on pharmacological targeting of glycolysis, specifically lactic acid metabolism, in combination with immune checkpoint blockade therapy." She hopes her work will contribute to our understanding of the intersection between tumor glycolysis and tumor-infiltrating lymphocytes, and ultimately provides promising ramifications for the clinic.
Svena's advice for students who are in the process of applying for a fellowship is to "try to get feedback on your research strategy from as many mentors as possible, including other students that have received funding, and don't be shy about applying to multiple fellowships." Svena says worst-case scenario, "you spent time organizing your specific aims and preliminary data – even if you don't get the fellowship, you have concrete plans for your thesis and it helps organize your experimental and career goals!"
After the rigorous application process proved successful, she says, "I feel incredibly lucky and thankful to all of my mentors for guiding my research and providing me with confidence in my work."
Albert Agustinus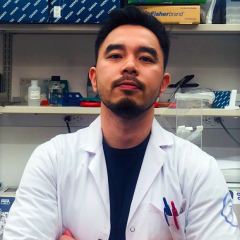 It is not a coincidence that Albert Agustinus's current thesis project aims to investigate the link between epigenetic changes and chromosomal instability (CIN) in cancer. Prior to joining WCGS in the Fall of 2018, Albert worked as a research technician in Dr. Yael David's lab in Memorial Sloan Kettering Cancer Centre (MSKCC) where he studied epigenetic changes in cancer. During his first year of Ph.D. training, he rotated in Dr. Samuel Bakhoum's lab who studies chromosomal instability, and the rest is history.
Albert's research proposal entitled "Targeting Chromosomal Instability and Epigenetics to Halt Cancer Metastasis," is the culmination of his work in David's and Bakhoum's labs. He explains that CIN and epigenetic alterations are commonly observed in cancer, and they arm cancer cells with layers of population diversity that can give cancer cells a better chance to survive and develop – like Darwin's survival of the fittest. "I'm working to examine the correlation between these two events and potential ways we can target them as a therapeutic option," says Albert. He hopes this research will shed a light on the mechanism of genetic and epigenetic heterogeneity in chromosomally unstable cancer and ultimately lead to development of drugs to combat and treat this disease.
Alberts says he feels very fortunate and proud to be selected as one of the fellowship recipients. "I know for a fact that other researchers who applied for this fellowship have innovative and impactful proposals as well," he says. "To be selected among this group of brilliant scientists was definitely an honor."
His advice for students who plan to apply for a fellowship: "Do not rush the writing." He suggests students spend a day or two, or even a week away from the so-called "final" proposal. "Sometimes seeing it too closely makes you oblivious to glaring errors." says Albert. "More importantly, find people to proofread your applications – your peers, the postdocs in your lab, your PI and even other PIs if you can."
Outside of the lab, Albert enjoys taking boxing classes, playing soccer and volleyball. Since the pandemic, he has picked up running when it is warm outside.
For more information about WCGS fellowship and scientific writing resources, visit the Office of Fellowships and Scientific Writing (OFSW).