WELCOME to WEILL CORNELL GRADUATE SCHOOL ! 
The New Student Orientation (NSO) will be a week-long experience consisting of a variety of events, information sessions, and fun events designed to welcome and introduce new graduate students to the Weill Cornell Graduate School (WCGS) community, and of course, New York City. Incoming graduate students will also have the opportunity to meet other new and returning graduate students, faculty members and graduate school staff as you kick off your first year here.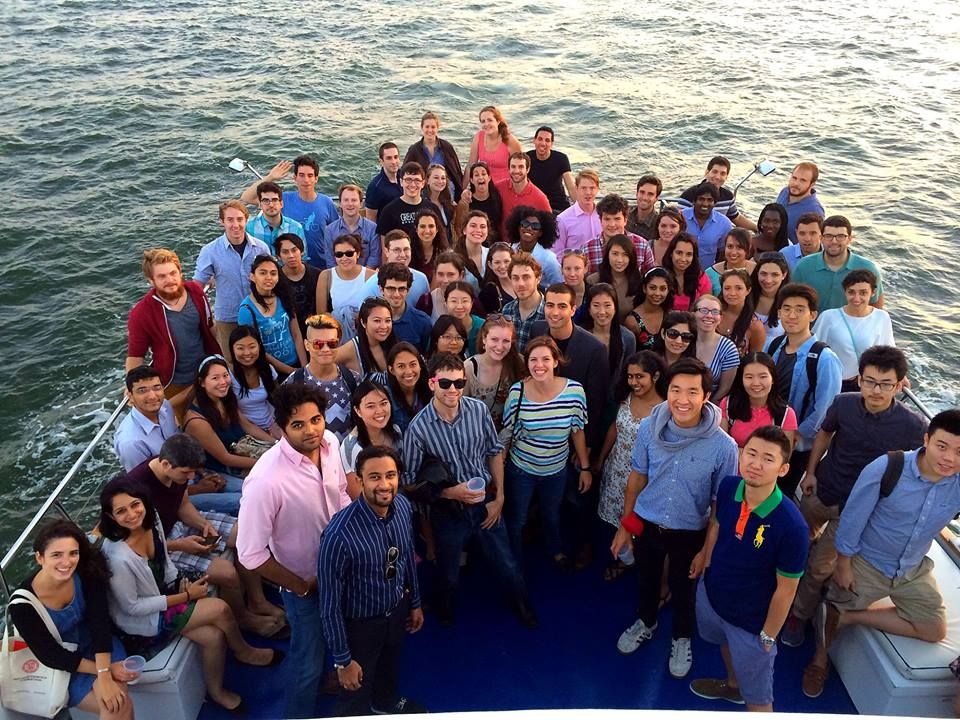 WCGS 2016 Orientation will be during the week of Monday, August 22 for all new graduate students with a welcome dinner Sunday evening, August 21. The schedule is listed below. You can also download the schedule (PDF)

here. For events indicated with an asterisk (*), attendance is mandatory. 
NSO is organized by the Graduate School Executive Committee (GSEC). GSEC represents the academic, social and administrative interests of the graduate student body, and acts as a liaison to WCGS administration. 
Be sure to like our WCGS Facebook page and follow us on Twitter for latest news and campus wide events.
Sunday, August 21
| | Time | Event | Location |
| --- | --- | --- | --- |
| | 5:00pm–8:00pm | Welcome Dinner Sponsored by: Graduate School Executive Council (GSEC) | WCMC Belfer Research Building 413 E 69th St, Room: BRB-204-A/B & Belfer Terrace |
Monday, August 22
| Date | Time | Event | Location |
| --- | --- | --- | --- |
| | 9:00am–1:00pm | Snacks and Swag sponsored by the Office of Alumni Relations for the Weill Cornell Graduate School of Medical Sciences | |
| * | 9:30am–10:45am | GSEC Orientation Overview and Ice Breaker - Meet with the Orientation Committee to discuss the upcoming week. [Breakfast will be included] | WCMC Belfer Research Building 413 E 69th St, Room: BRB-302 A/B/C |
| * | 10:45am–11:15am | Welcome to the Graduate School - Jacob Sneva, PhD, Director of Education Administration; Gary Koretzky, MD, PhD, Dean | WCMC Belfer Research Building 413 E 69th St, Room: BRB-302 A/B/C |
| * | 11:15am–1:00pm | HR Enrollment and Processing - Domestic and International Students | WCMC Belfer Research Building 413 E 69th St, Room: BRB-302 A/B/C |
| * | 1:00pm–2:00pm | Lunch (Introduction of Staff) - Jacob Sneva, PhD, Director of Education Administration | WCMC Belfer Research Building 413 E 69th St, Room: BRB-302 A/B/C |
| | 2:00pm–4:00pm | Campus Tour [Not mandatory for students who started on July 1] | From Lunch |
| | 2:00pm–4:00pm | Student ID – Security Office | Annex Building 523 East 70th St |
| | 2:00pm–4:00pm | Class Photos – Art and Photography | 1300 York Ave, A-162 (1st floor) |
| | 4:30pm–9:00pm | Yacht Ride [Cash bar] | WCMC Lasdon House Lobby 420 E. 70th St |
Tuesday, August 23
| Date | Time | Event | Location |
| --- | --- | --- | --- |
| * | 8:45am-9:00am | Welcome Breakfast - W. Marcus Lambert, PhD, Director of Diversity and Student Services | WCMC Belfer Research Building 413 E 69th Street Room: BRB-204 A/B/C |
| * | 9:00am-9:40am | Student Services/Overview and Responsible Conduct of Research Requirement - Randi Silver, PhD, Associate Dean | WCMC Belfer Research Building 413 E 69th Street Room: BRB-204 A/B/C |
| * | 9:40am-10:00am | Housing and Student Services (Part I) - Kevin Rakowsky, Director of WCMC Housing; Rachael Ryan, MSKCC Housing | WCMC Belfer Research Building 413 E 69th Street Room: BRB-204 A/B/C |
| * | 10:00am-10:40am | Graduate School ITS Orientation - Christine O'Connor, Associate Director of ITS-Client Services | WCMC Belfer Research Building 413 E 69th Street Room: BRB-204 A/B/C |
| * | 10:40am-11:10am | Security Presentation - Anthony Medaglia, Director of Security; Alex Rodriguez, Security Manager | WCMC Belfer Research Building 413 E 69th Street Room: BRB-204 A/B/C |
| * | 11:10am-11:30am | Housing and Student Servies (Part II) - Marcus Lambert, PhD, Director of Diversity and Student Services | WCMC Belfer Research Building 413 E 69th Street Room: BRB-204 A/B/C |
| | 11:30am-12:30pm | Device Connections - Laptops, Phones, Tablets, Computers, etc. | WCMC 1300 York Avenue, SMARTDesk (in the library, near the entrance) |
| | 12:30pm-1:30pm | Lunch (on your own) | |
| * | 1:30pm-3:30pm | Program Meetings | Contact your Program Meetings |
| * | 3:30pm-3:50pm | A Safe Learning Environment Course - Joseph Murray, MD, Associate Dean of Student Affairs & Equal Opportunity Programs | WCMC 1300 York Avenue: Room A-250 |
| * | 3:50pm-4:10pm | Wellness Program - Conor Liston, PhD; Mary Charlston, MD, Chief, Division of Clinical Epidemiology and Evaluative Sciences Research | WCMC 1300 York Avenue: Room A-250 |
| | 4:30pm-4:45pm | Suveg Pandey, Graduate Student | WCMC 1300 York Ave Room: A-250 |
| | 4:45pm-5:30pm | Breakout Session | WCMC 1300 York Ave Rooms: A/B/D/E/F/G/H/ J/K |
| | 6:00pm-8:00pm | Finding my Community: A Diversity Mixer: | WCMC Belfer Research Building 413 E 69th Street Room: BRB-204 A/B/C |
Wednesday, August 24
| | Time | Event | Location |
| --- | --- | --- | --- |
| | 9:00am-12:00pm | Break (Device hook-up) | WCMC 1300 York Avenue (1st Flr) SMARTDesk (in the library, near the entrance) |
| | 12:00pm-1:00pm | Lunch | WCMC 1300 York Avenue (2nd Flr) Archbold Commons |
| * | 1:00pm-1:20pm | Finance/Grants & Health Insurance - David Christini, PhD, Associate Dean | WCMC 1300 York Avenue: Room A-250 |
| | 1:20pm-1:35pm | Health Insurance - Laura Elsesser, Student Services Coordinator/DSO | WCMC 1300 York Avenue: Room A-250 |
| | 1:35pm-1:50pm | Payroll - Barbara Harville, MS, Manager of Grants & Finance | WCMC 1300 York Avenue: Room A-250 |
| | 1:50pm-2:10pm | Grants and Fellowships - Xiaoai Chen, PhD, Grants Administrator | WCMC 1300 York Avenue: Room A-250 |
| | 2:10pm-2:30pm | Break (Device hook-up) | WCMC 1300 York Avenue (1st Flr) SMARTDesk (in the library, near the entrance) |
| * | 2:30pm-3:00pm | Registration - Carlene Bryan-Alexis, MA, Assistant Registrar, Education Administration | WCMC 1300 York Avenue: Room A-250 |
| * | 3:00pm-3:30pm | Registration: How to Register for Courses in LEARN online (BCMB) - Carlene Bryan-Alexis, MA, Assistant Registrar | WCMC 1300 York Avenue (2nd Flr) Room A/B |
| * | 3:00pm-3:30pm | Registration: How to Register for Courses in LEARN online (Immunology, Pharmacology) - Shamika Jackson, Assistant Registrar | WCMC 1300 York Avenue (2nd Flr) Room C/D |
| * | 3:30pm-4:00pm | Registration: How to Register for Courses in LEARN online (Neuroscience, PBSB) - Carlene Bryan-Alexis, MA, Assistant Registrar | WCMC 1300 York Avenue (2nd Flr) Room A/B |
| * | 3:30pm-4:00pm | Registration: How to Register for Courses in LEARN online (TPCB, TPCBM) - Shamika Jackson, Assistant Registrar | WCMC 1300 York Avenue (2nd Flr) Room C/D |
| * | 5:00pm-7:00pm | Faculty and New Student Mixer | WCMC Harkness Courtyard (north of 1300 York Avenue entrance) |
| | 9:00pm-11:00pm | Bed, Bath & Beyond (Discount shopping experience) | WCMC 445 E 69th St: Olin Lobby |
Thursday, August 25
| | Time | Event | Location |
| --- | --- | --- | --- |
| * | 9:00am-11:00am | Radiation Safety Course - Chris Saganich, Senior Physict | WCMC 1300 York Avenue, Room A-950 |
| * | 11:00am-1:00pm | Biological/Chemical/Fire Safety Course - James Crandall, Director of Environmental Health & Safety | WCMC 1300 York Avenue, Room A-950 |
| | 1:00pm-2:00pm | Lunch (on your own) | |
| * | 2:00pm-2:45pm | Student Health Services - Edgar Figueroa, MD, Director of Student Health Services; Jonathan Avery, MD, Assistant Professor of Clinical Psychiatry | WCMC 1300 York Ave Room: A-250 |
| | 3:30pm-5:00pm | Ice Cream Social with GSEC | WCMC Harkness Courtyard (north of 1300 York Avenue entrance) |
| | 6:00pm | Central Park - GSEC | WCMC 445 E 69th St Olin Lobby |
Friday, August 26
| | Time | Event | Location |
| --- | --- | --- | --- |
| * | 11:00am-12:30pm | Library Orientation and Treasure Hunt- Prizes & Fun | WCMC 1300 York Avenue (2nd Flr) Weill Auditorium |
| | 2:00pm-5:00pm | Scavenger Hunt - GSEC | WCMC 445 E 69th St: Olin Lobby |
| | 6:00pm | Sweets and Eats Crawl - GSEC | WCMC 445 E 69th St: Olin Lobby |
Tuesday, September 20
| | Time | Event | Location |
| --- | --- | --- | --- |
| | 6:00pm-8:00pm | Dinner with Dean Koretzky | WCMC Belfer Research Building 413 E 69th St Rooms: BRB-204 A/B/C |